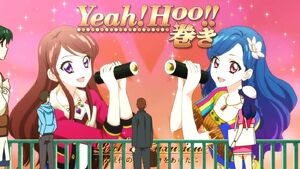 Yeah! Hoo! Maki Girl Audition has been going on for a while. However, unlike the Pon-Pon Crepe Image Girl auditions, it has only been seen once in the anime. This audition takes place in Episode 67 - Fortune Compass☆. The song performed is Kira・pata・shining.
Known Generations
TBA
Participants
Winners
Others
Gallery
Ad blocker interference detected!
Wikia is a free-to-use site that makes money from advertising. We have a modified experience for viewers using ad blockers

Wikia is not accessible if you've made further modifications. Remove the custom ad blocker rule(s) and the page will load as expected.