Thumbelina is a fairytale by Hans Christian Andersen and published by C. A. Reitzel on December 16, 1835 in the the second installment of Fairy Tales Told for Children. The story follows a tiny girl born from a barleycorn and her adventures avoiding the intentions of various appearance- and marriage-minded animals before falling in love with a flower-fairy prince the same size as her. Its main brand is Dreamy Crown.
Coords of Thumbelina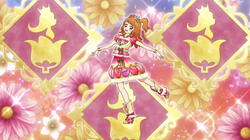 Cards of Thumbelina
Gallery
Official Art
Data Carddass Aikatsu
Anime Screenshots
Ad blocker interference detected!
Wikia is a free-to-use site that makes money from advertising. We have a modified experience for viewers using ad blockers

Wikia is not accessible if you've made further modifications. Remove the custom ad blocker rule(s) and the page will load as expected.