The Nutcracker is a ballet composed by Pyotr Ilyich Tchaikovsky based off the novella The Nutcracker and the Mouse King by E. T. A. Hoffmann. The story follows a young German girl whose favorite Christmas toy, the nutcracker, comes to life after defeating the evil Mouse King and takes her away to a magical kingdom populated by dolls. The story's main brand is Vivid Kiss.
Coords of The Nutcraker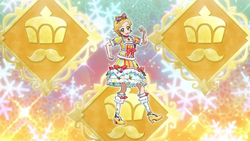 Cards of The Nutcracker
Gallery
Official Artwork
Data Carddass Aikatsu
Anime Screenshots
Ad blocker interference detected!
Wikia is a free-to-use site that makes money from advertising. We have a modified experience for viewers using ad blockers

Wikia is not accessible if you've made further modifications. Remove the custom ad blocker rule(s) and the page will load as expected.