TV Anime "Aikatsu!" 3rd Season Insert Song Mini Album 2 - Colorful Smile
Comments

57
Share
Ad blocker interference detected!
Wikia is a free-to-use site that makes money from advertising. We have a modified experience for viewers using ad blockers

Wikia is not accessible if you've made further modifications. Remove the custom ad blocker rule(s) and the page will load as expected.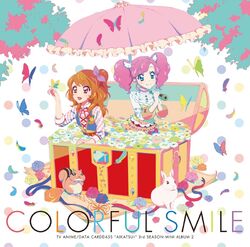 TV Anime "Aikatsu!" 3rd Season Insert Song Mini Album 2 Colorful Smile
(

TVアニメ/データカードダス『アイカツ!』3rdシーズン挿入歌ミニアルバム 2 Colorful Smile

)
 is the third CD release of the 2015 Series. The album was released on August 26, 2015.
Tracklist
No.
Title
Performer
.ogg Audio
1
Hey! little girl
Ruka and Mona from AIKATSU☆STARS!

2
Chica×Chica
Miho and Miki from AIKATSU☆STARS!

3
Summer☆Magic
(

サマー☆マジック

)
Miki and Miho from AIKATSU☆STARS!

4
Light Pink Day Tripper
(

薄紅デイトリッパー

)
Remi from STAR☆ANIS and Miho from AIKATSU☆STARS!

5
Sweet Heart Restaurant
Eri from STAR☆ANIS and Miki from AIKATSU☆STARS!

6
Emerald Magic
(

エメラルドの魔法

)
Mona and Ruka from AIKATSU☆STARS!

7
Little beat, Little wing♪
(

リルビーリルウイン♪

)
Ruka, Mona and Miki from AIKATSU☆STARS!

8
Lovely Party Collection (STARS! ver.)
Ruka, Mona, Miki, Miho, Nanase and Kana from AIKATSU☆STARS!

9
Hey! little girl (Off Vocal)
None

10
Chica×Chica (Off Vocal)

11
Summer☆Magic
(

サマー☆マジック

)(Off Vocal)

12
Light Pink Day Tripper
(

薄紅デイトリッパー

)(Off Vocal)

13
Sweet Heart Restaurant (Off Vocal)

14
Emerald Magic
(

エメラルドの魔法

)(Off Vocal)

15
Little beat, Little wing♪
(

リルビーリルウイン♪

)(Off Vocal)
Promotion Cards
15CD-012
Card Name
Triple Ribbon Blue Coat Dress

Type
Category
Brand

Cute

Tops & Bottoms

Angely Sugar
Rarity
Lucky Star
Dream
Fever
Normal

-
Dress Appeal
Appeal Points
Tops Wave
450
---
15CD-013
Card Name
Blue Suede Knee High Boots

Type
Category
Brand

Cute

Shoes

Angely Sugar
Rarity
Lucky Star
Dream
Fever
Normal

-
Dress Appeal
Appeal Points
Hopping Shoes
200
References