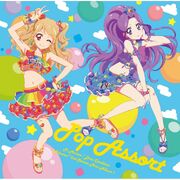 TV Anime "Aikatsu!" 2nd Season Insert Song Mini Album - Pop Assort
(

TVアニメ『アイカツ!』2ndシーズン挿入歌ミニアルバム① POP ASSORT

)
[1]
is a mini album of the 2014 Series and 2nd Season anime which contains songs that appeared after the release of 
Cool Mode
and
Sexy Style
. The album was released on June 25, 2014.
[1]
Comment
From the popular series "Aikatsu!", comes a compilation of songs played in the anime and Data Carddass!!
Additionally, every songs in this CD are new songs♪
Listen to all the songs and let's Ai! Katsu! together.
Plus, the first-production copies includes original Aikatsu! cards you only can have by buying the CD!
So be sure sure to grab one♪ [2]
Info
【Included songs】
In addition of the insert songs used in the TV anime series and Data Carddass, there are total 8 new songs included.
First-production copies planned to include CD-original cards usable in the Data Carddass.
©SUNRISE/BANDAI,DENTSU,TV TOKYO[2]
Tracklist
No.
Title
Performers
(all from STAR☆ANIS)
.ogg File
1
Smiling Suncatcher
(

笑顔のSuncatcher

)
Risuko, Mona

2
CHU-CHU♡RAINBOW
Remi, Eri

3
Sweet Sp!ce
Fūri, Waka

4
Eternally Flickering Flame
(

永遠の灯

)
Remi, Fūri

5
Aurora Princess
(

オーロラプリンセス

)
Eri, Waka

6
The Only Fascinating Treasure!
(

ミトレジャーノ!

)
Waka, Fūri

7
Idol Activity!
~Ichigo & Akari Ver.~
(アイドル活動!
~いちご&あかり Ver.~)
Waka, Ruka

8
Shining☆Days
(

キラキラ☆デイズ

)
Fūri, Waka
Promotion Cards
CD-017
Card Name
Starlight School Summer Uniform

Type
Category
Brand

Cute

Tops & Bottoms
-
Rarity
Lucky Star
Constellation/Romance/Dream/BOOM
Fever
-

-
Dress Appeal
Appeal Points
Tops Wave
500
CD-018
Card Name
Starlight School Summer Loafers

Type
Category
Brand

Cute

Shoes
-
Rarity
Lucky Star
Constellation/Romance/Dream/BOOM
Fever
-

-
Dress Appeal
Appeal Points
Hopping Shoes
300
References