Naoto Suzukawa
Japanese Name
鈴川直人
Romanized Name
Suzukawa Naoto
English Name
Naoto Suzukawa
Statistics
Age
14-17
Gender
Male
Affiliation
Starlight Academy
Occupation
Band Member and Groundskeeper at Starlight Academy
First Appearance
Anime
Episode 3
Voice Actress/Actor
Seiyū
Toshiyuki Toyonaga (豊永利行)
He is a groundskeeper at the Starlight Academy.
Background
He sometimes helps Ichigo and Aoi with problems, and gave Aoi his rare Aikatsu cards from Futuring Girl. Though he cares about the students of the academy, he has no interest in them, as he thinks they're all just kids. He's secretly the vocalist of
More Than True
on the side while maintaining his groundkeeper job. Aoi mentions it for the first time in Episode 7. He often gives words of advice to Ichigo and the others to help them on their journey to becoming top idols. He uses Kirakiratter under the name Nao. Earlier in the series Ichigo and Aoi believed that Otome had a crush on Naoto but in the end, she was only interested in his necklace.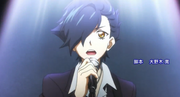 Trivia
It seems that only Ichigo knows who he really is, however in later episodes Aoi and Ran find out who Naoto is.
He has an older sister who is intersted in everything idol related, much like Aoi. It could be that his sister is Tiara, because he mentions her in an episode when told about Mister S.
Aoi first mentions More Than True in Episode 07 - Beware the Blog
Etymology
Suzukawa (鈴川) Suzu (鈴) means bell and Kawa (川) means river.
Naoto (直人) means one who is honest. Possibly a reference to the band he is a part of, More Than True.
Gallery