The Adventures of Pinocchio (or simply Pinocchio) is a children's novel by Italian author Carlo Collodi, published as a book in 1883, but was originally serialized in 1881 and 1882. The story follows the adventures of the titular Pinocchio, a mischievous, animated marionette and his father, the woodcarver Geppetto. It is part of the new Dream Story System and its main brand is Dance Fusion.
Coords of Pinocchio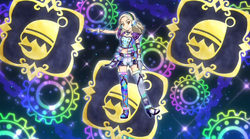 Cards of Pinocchio
Gallery
Official Art
Data Carddass Aikatsu
Anime Screenshots
Soul Marionette Coord
Grace Fox Coord, Geppetto Innocent Coord
Ad blocker interference detected!
Wikia is a free-to-use site that makes money from advertising. We have a modified experience for viewers using ad blockers

Wikia is not accessible if you've made further modifications. Remove the custom ad blocker rule(s) and the page will load as expected.