Naughty Detective
is a Police Drama that held an audition in
Episode 14
. It required no singing and had girls either choose the role of two preset character types, which could be identified by the outfits worn.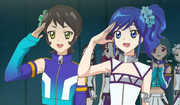 Both Aoi and Shion manage to pass the audition with their performances, while Ichigo was cast as an extra.
In Episode 49, Aoi reveals that she has been promoted from Naughty Detective to the Naughty Inspector and was staring in a movie called Naughty Police Chief: The Movie. Since then she has been performing in the drama and new movies for the series.
Audition Participants
Known Cast
Gallery
Ad blocker interference detected!
Wikia is a free-to-use site that makes money from advertising. We have a modified experience for viewers using ad blockers

Wikia is not accessible if you've made further modifications. Remove the custom ad blocker rule(s) and the page will load as expected.