Mecha PaniQ (メチャパニック, Mecha PaniQ) is a Pop brand in the Data Carddass Aikatsu! series. It debuted in the Data Carddass Aikatsu! 2016 Series - Part 2. The brand's main user is Nina Dōjima.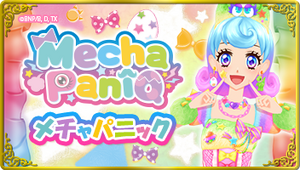 About
Brand Concept
Shuffling the idea of different worlds together to create a brave funny and confusing design along with colorful neon pastel colors, footprints of dinosaurs, eggs and eyeballs to create a unique motif and a brand that shows a different view of the world around us.
Known Users
Chronology
TBA
Cardlist
Data Carddass Aikatsu! Collection Cards
Promotional Cards
Coords
Gallery
Main article: Mecha PaniQ/Image gallery
Trivia
Ad blocker interference detected!
Wikia is a free-to-use site that makes money from advertising. We have a modified experience for viewers using ad blockers

Wikia is not accessible if you've made further modifications. Remove the custom ad blocker rule(s) and the page will load as expected.