Ad blocker interference detected!
Wikia is a free-to-use site that makes money from advertising. We have a modified experience for viewers using ad blockers

Wikia is not accessible if you've made further modifications. Remove the custom ad blocker rule(s) and the page will load as expected.
This is a list of merchandising by Ichiban Kuji, tie-upping with Aikatsu! series.
About Ichiban Kuji
Ichiban Kuji (一番くじ, Ichiban Kuji lit. "No.1 Lottery") is an anime and J-pop culture-related merchandising brand by Banpresto. As its name suggests, Ichiban Kuji goes with lottery, whereas the prizes' size goes up to the type of the lottery.
Ichiban Kuji Petit: Aikatsu!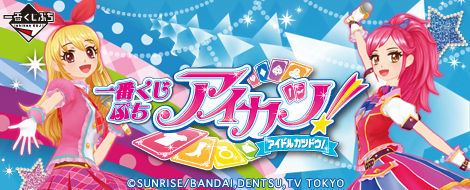 Statistics
Release: End of December 2013
Price per play: ¥300
Prizes
| Prize | Prize Name | Image |
| --- | --- | --- |
| A | Visual Collection Book | |
| B | Desk Mat | |
| C | Clear Poster & Decoration Sticker | |
| D | Can Badge | |
| Last One | Visual Collection Book: Special ver. | |
| Double Chance Campaign | Signed Poster | |
| | | |
Promotion Cards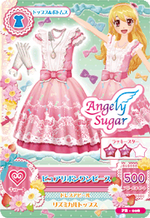 Card Number: PB-008
Card Name: Pure Ribbon Onepiece
Type: Cute
Category: Tops & Bottoms
Brand: Angely Sugar
Rarity: -
Lucky Star: ★★☆
Dress Appeal: Rhythmical Tops
Appeal Points: 500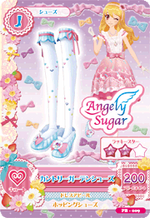 Card Number: PB-009
Card Name: Country Garden Shoes
Type: Cute
Category: Shoes
Brand: Angely Sugar
Rarity: -
Lucky Star: ★★☆
Dress Appeal: Hopping Shoes
Appeal Points: 200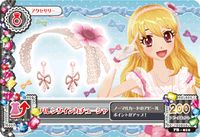 Card Number: PB-010
Card Name: Valentine Headband
Type: -
Category: Accessories
Brand: -
Rarity: Normal
Lucky Star: -
Dress Appeal: -
Appeal Points: 200
Single Effect: (Appeal point bonus) Point-ups for normal card's appeal points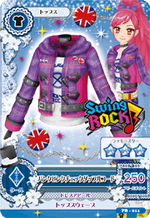 Card Number: PB-011
Card Name: Punk Pink Checked Duffle Coat
Type: Cool
Category: Tops
Brand: Swing Rock
Rarity: -
Lucky Star: ★★★
Dress Appeal: Tops Wave
Appeal Points: 250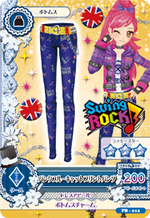 Card Number: PB-012
Card Name: Punk Blue Cat Printed Pants
Type: Cool
Category: Bottoms
Brand: Swing Rock
Rarity: -
Lucky Star: ★★★
Dress Appeal: Bottoms Charm
Appeal Points: 200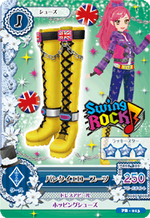 Card Number: PB-013
Card Name: Punk Yellow Boots
Type: Cool
Category: Shoes
Brand: Swing Rock
Rarity: -
Lucky Star: ★★★
Dress Appeal: Hopping Shoes
Appeal Points: 250
Ichiban Kuji Petit: Aikatsu! New Generation
Statistics
Release: Beginning of October 2014
Price per play: ¥360
Prizes
| Prize | Prize Name | Image |
| --- | --- | --- |
| A | Card Collection Book | |
| B | Fashion Mirror | |
| C | Gauze Towel | |
| D | Reflector Bracelet | |
| E | Aikatsu! Card Clear Case | |
| Last One | Poster | |
| Double Chance Campaign | Poster: Special ver. | |
| | | |
Promotion Cards
TBA