"Aikatsu, Aikatsu! My effort isn't enough! I'm going to start practicing more!"

This article is a stub. You can help Aikatsu Wiki by expanding it.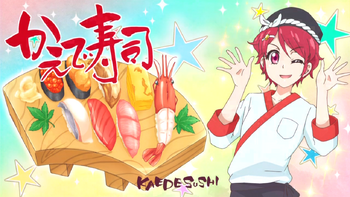 "Yes! Kaede Sushi!"

– Kaede's catchphrase for the "Kaede Sushi" restaurant chain in America
Kaede Sushi (かえで寿司, Kaede Sushi) is a high-class American Sushi chain-shop run by Kaede's father. Kaede herself appears as the commercial star.
In Episode 60, this shop appeared on a variety show, Tuna Palace. In this episode, the shop is run by Kaede.
Ad blocker interference detected!
Wikia is a free-to-use site that makes money from advertising. We have a modified experience for viewers using ad blockers

Wikia is not accessible if you've made further modifications. Remove the custom ad blocker rule(s) and the page will load as expected.