Ichigo Hoshimiya
Japanese Name
星宮 いちご
Romanized Name
Hoshimiya Ichigo
English Name
Ichigo Hoshimiya
Statistics
Age
13-14 (S1),15 (S2)
Gender
Female
Affiliation
Starlight Academy
Soleil (S1)
Occupation
Idol
Student
Birthday
March 15
Blood Type
O
First Appearance
Data Carddass Game
1st collection
Anime
Episode 1
Voice Actress/Actor
Seiyū
Sumire Morohoshi
Singing Voice
Waka from STAR☆ANIS
"My passionate Idol Activities, "Aikatsu!" is starting!"

– Ichigo's anime opening prologue.
Ichigo Hoshimiya (星宮 いちご, Hoshimiya Ichigo?) is one of the main characters of Aikatsu, and a student of Starlight Academy. She is cheerful and has a cute personality. Her favorite brand is Angely Sugar. At first, she was a idol working solo but was later put into a unit called Soleil (ソレイユ, Soreiyu?) with Aoi Kiriya and Ran Shibuki.
Bio
Ichigo was a middle school freshman and a coworker of her family's bento shop. She spends most of her time helping with her mother, Ringo Hoshimiya, serving customers with the family's tasteful bento meals. Because of this, she developed an interest in judging food. Her only friend in her life is Aoi Kiriya, an intelligent girl with a knowledge for idols. Ichigo often acknowledged her as an "Idol expert" or "Idol professor," due to her dedicated fandom of idols.
Ichigo is usually carefree, but all she does is helping her mother in her bento shop. She isn't much into idoling, but after seeing Mizuki's performance with Aoi and her little brother Raichi, she was inspired by it. Encouraged by Aoi, Raichi, and her mother, she joins Starlight Academy to begin her career as an idol. She's a complete novice, yet she is optimistic and works hard to become the greatest idol ever. She doesn't have much knowledge about the entertainment world, so she always has her friend Aoi to teach her. As she accomplished many activities at Starlight Academy, Ichigo learns what it means to be a true idol.
When coming for the entrance exams, Ichigo was able to use special appeal as said by her headmistress. Her best friend Aoi was able answer all questions correctly in the written exam. Her entrance number was 367.
Appearance
Ichigo has long blonde hair that reaches down to her waist. She also wears a red headband with a big red bow in her hair. As a student of Starlight Academy, she wears a standardized uniform for each tropical seasons. When she is exercising, her hair is tied up as pigtails and she wears a white jump suit with pink sleeves and accents.
Her regular stage outfit is Pink Stage Coord outfit, which consists of a top with accents that match a poofy, frilly skirt bottom. Ichigo's in particular is of a white blouse with short, puffy sleeves with a tie that matches her bow, a wide collared, light pink vest, a frilly white cuff bracelet, a poofy, frilly skirt with a pink plaid design that matches the shown inside of her vest, and light pink, crossover heels that match her vest. Her vest, cuff bracelet, and socks all feature a ribbon (with a similar color to her bow) with a golden heart in the center.
As an idol, Ichigo is a cute type who uses Angely Sugar, her favorite and primary brand. Despite that, she has also worn coords from other brands; Futuring Girl in Episode 17, Spicy Ageha in Episode 21 and Episode 23, and Swing Rock in Episode 52 and Episode 53.
Personality
Ichigo is a cheerful girl and is always willing to help others no matter what. She is a bit of an airhead, but is friendly and caring much like her mother, Ringo. However, she often pushes herself to much which may sometimes cause her to lose track of things. Ichigo is rather straight forward and sometimes has difficulty understanding certain situations, but in the end her determination and hard-work allows her to over come the obstacles that may hinder her. One of Ichigo's most defining personality quirks is her love of food. There isn't a single dish she dislikes or isn't fond of and in return her appetite is considerably large. This is a trait she inherited from her father.
Her personality is known to most as the moe type. Meaning that she is, above all, cute. She displays the some of the most common traits like airheaded-ness, determination, cheerfulness, and in some cases genius-level abilities.
Plot
Becoming an Idol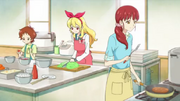 Ichigo is first introduced in
Episode 1
working with her mother and brother at their family's bento shop. After the shop closes, Ichigo insists on helping her mother clean the counter. She is told that by her mother that she needs to find something she wants to do for herself but Ichigo replies that her dream may be to run the bento shop too. She then goes upstairs to find her brother secretly looking at some photos. In an attempt to see, she accidentally spills juice on Raichi's pictures that were revealed to be pictures of
Mizuki Kanzaki
. Clearly frustrated, Raichi starts telling Ichigo how amazing she is and that he was not able to get tickets for her concert. So Ichigo asks Aoi for some aid and the three of them are able to go to the concert.
The next day, after seeing Mizuki, Ichigo becomes amazed. Aoi comes over and explains to her about Starlight Academy and how they are going to take the entrance exams together. At first Ichigo is hesitant, but her mother tells her its okay to do what she wants. Ichigo and Aoi start their special training to get into Starlight Academy. On the day of the entrance exams, Ichigo chooses the Pink Stage cards to perform the entrance exam. She uses a special appeal during her audition for the first time which amazes Mizuki and Orihime. She successfully passes the entrance exams with Aoi, marking their start on the path to become an idol.
As an Idol
Ichigo completes many auditions with Ran and Aoi, and also is in the movie Stylish Thief Swallowtail with Otome. In Episode 35, she auditions for Tristar with Ran and Aoi, but Ran wins the audition; although Ran leaves Tristar 2 episodes later. Later on, it was announced that Ichigo and Aoi were to be in an idol unit together. Ran joins the unit later. In Episode 39, Tristar and Soleil then merged into a single unit named STAR☆ANIS, with Powa Powa Puririin although Shion Kamiya doesn't join in order to focus on her acting career.
As time goes on, the Starlight Queen Cup is soon announced, and Soleil begs Johnny to train them like he trained Mizuki, yet only then does she discover how strict the training Mizuki had gone through. This also lead her to finding out that her mother was Miya, the legendary idol along with Hime in Masquerade. She also obtained her second premium rare coord, the Star Festival Coord with the Starlight Tiara as it's accessory card. She passed the cup until the final, having to match with Mizuki. There, Mizuki won and Ichigo held a special farewell concert. After the concert, she leaves Japan for a new adventure in search of more burning Aikatsu in America.
At the end of episode 51, Ichigo returns to Japan. She takes Aoi's role as Starlight Academy's representative, then does Constellation Appeal in the stage, which suprised everyone. Ichigo grows curious about Seira, as she inflitrates Dream Academy to know more. Ichigo and Seira put more intense battle, like in Swing Rock Model Audition, Kouhaku Uta Gassen and Star-Dream Idol Festival-Carnival, which most of them end up in draw.
Relationships
Aoi has been Ichigo's best friend since 5th grade. Where they met during a festival after Aoi watched Ichigo dancing to Guppy (an idol) and commented on how wrong it was. But when she saw how much fun Ichigo was having, she soon joined in. Ichigo relies heavily on her best friend but she always lends a shoulder for Aoi in times of emotional support. Both Ichigo and Aoi, along with Ran; love to do fun stuff in Aikatsu, and Aoi is also Ichigo's groupmate in Soleil when the unit was first made.
Ran is Ichigo's other closest friend, as well as the third groupmate in Soleil. Even after learning Ran's title and finding out how cold and cool she was, Ichigo was very forceful with her in hopes of getting to know the girl better. Eventually Ran changed her ways and slowly, over time began to befriend them. Ran is very tsundere-like with Ichigo and is often the one to comment on her silly ideas or thoughts.
Mizuki is the one Ichigo admires, and Mizuki herself finds Ichigo very interesting. Because of this, they are rivals but on a non-hostile manner. In season 2, Mizuki leaves Starlight Academy and even though she's not an idol anymore, Ichigo said that she hopes that one day, she can stand on the stage with her again.
Raichi is Ichigo's little brother, who is a huge fan of Mizuki, influencing Ichigo to become a fan herself. He adores the world of idols and has a huge crush on Aoi, but sometimes admits not to have very much confidence in Ichigo as an idol.
Ringo is Ichigo's mother. She used to be worried that her own dream was influenced onto Ichigo and wanted her to go and find her own passionate dream to follow. When Raichi told her that Ichigo wanted to be an idol, Ringo knew that Ichigo thought she was in the way of Ichigo's dream and told Ichigo to do what she wanted to do. It is later revealed that she was once part of the legendary idol unit, Masquerade, under the stage name Miya. Her aura is composed of cherry blossom flowers, similar to Ichigo's.
Taichi is Ichigo's father, who is often traveling due to business. He often gives seemingly wild tales about what goes on during his travels. But because he never lies, they are apparently true. It's said that Ichigo's love of food came from him, and it's also possible her looks were inherited from him also.
Etymology
Hoshimiya (星宮, Hoshimiya?) Hoshi (星, Hoshi ?) means star. This is probably a reference to her dream to become an Idol. Miya (宮, Miya?) means shrine. As a result, her teacher Johnny Bepp calls her "Star-miya".
Ichigo (いちご, Ichigo?) means strawberry; it has been noted many times in the anime. This name comes after her mother's name, Ringo, which means apple and is also related to the fact Raichi (Lychee) is also a fruit related name.
Trivia
Gallery
Main Page: Ichigo Hoshimiya/Image Gallery
Quotes