Hansel and Gretel is a German fairytale published in 1812, recorded by the Brothers Grimm. The story follows the titular Hansel and Gretel, a brother and sister, who, having found themselves lost deep in the woods, discover a house made entirely of candy and owned by a cannibalistic witch. It is part of the Dream Story System and its main brand is Retro Clover.
Coords of Hansel and Gretel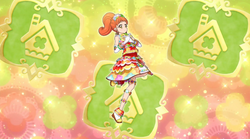 Cards of Hansel and Gretel
Gallery
Official Art
Data Carddass Aikatsu
Anime Screenshots
Candy House Coord
Candy House Coord, Gretel Flower Coord
Trivia
This is the first Dream Story to have coords from only one brand and only one type: pop, but the second Story overall following The Tale of the Bamboo Cutter.

This is also the third Story overall to have all its cards to have its rarity in Campaign Rare.
Ad blocker interference detected!
Wikia is a free-to-use site that makes money from advertising. We have a modified experience for viewers using ad blockers

Wikia is not accessible if you've made further modifications. Remove the custom ad blocker rule(s) and the page will load as expected.