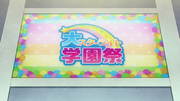 The Great Starlight School Festival (大スターライト学園祭, Dai Sutāraito Gakuen-sai) is a cultural festival and event organized by the idol unit Soleil that officially began in Episode 148. Unlike Starlight School's last unit tournament, the Festival is not limited to the middle school division.
History
In Episode 146, it was revealed that Ichigo Hoshimiya, Aoi Kiriya, and Ran Shibuki had been planning the Great Starlight School Festival while on their nationwide tour. While on their way back to Starlight School following the last concert of their tour, they receive approval concerning the Festival from Orihime Mitsuishi. The three then make an official announcement about the Festival at Aikatsu8's 2015 line up revelation, stating that only trio units will be allowed to participate.
In Episode 148, Powapowa-Puririn was the first to perform, singing Angel Snow. It is revealed that the venue of the Festival is the Starrise Stadium, where the Great Ichigo Starmiya Festival took place. Otome, Sakura, and Shion then revealed a surprise for the audience, broadcasting a performance of Happy Crescendo by Seira Otoshiro, Kī Saegusa, Sora Kazesawa, and Maria Himesato from a Dream Academy fan meet. In Episode 149, the newly-formed Vanilla Chili Pepper sang Chica×Chica.
In Episode 150, the unit Tristar reformed after two years of disbandment to participate in the Festival, performing Take Me Higher.
Units Luminas and Soleil performed on the last day of the Festival, singing Little beat, Little wing♪ and Diamond Happy, respectively. Vanilla Chili Pepper came in fifth place, Powapowa-Puririn came in fourth place, Tristar came in third place, Luminas came in second place and Soleil came in first place.
Known Participants (in order of performance)
Trivia
Luminas is the only unit that is neither Pop nor Sexy-typed.
Out of all the past tournaments, the Starlight School Festival has the largest number of performances shown in full, at five.
Gallery
Other
Performances
Ad blocker interference detected!
Wikia is a free-to-use site that makes money from advertising. We have a modified experience for viewers using ad blockers

Wikia is not accessible if you've made further modifications. Remove the custom ad blocker rule(s) and the page will load as expected.