Otome RAINBOW! (おとめRAINBOW!, Otome RAINBOW!) is the 83rd episode of Aikatsu! TV anime series and the 33rd episode of its "2nd Season" (2年目, "2nd Season" lit. "Second Year"). The episode aired on May 22, 2014.
Story
It's after the Partner's Cup and Maria decides to visit Otome after the two became such good friends during the tournament in order to know more about her. When she finds Otome in an unexpected place, the Rainbow Maiden proceeds to tell her about her past...
Summary
One early morning Otome is preparing for the day. She brushes her long hair before pulling it up into her traditional drill-bun hairstyle before heading off.
After a while, a disappointed Maria is found in front of her dorm gate by Ichigo, Aoi, and Ran. She asks if they happened to see Otome and they mention having recently passed her. She had seemed to be in a hurry and didn't really find out where she was going. Maria explains that she came because the two of them had grown pretty close during the Partners Cup, so she was hoping to get to know more about her over some tea and snacks. At first, Aoi seems to get what Maria is thinking and admits to being excited to get to know more about Otome herself, while Ichigo and Ran only have nice things to say about her.
Later on, Otome comes to a cute, colorful building and begins cleaning the windows. While doing so, she gets a call from Makoto, the top designer of Happy Rainbow. She is surprised and he announces that he used her as the influence for Happy Rainbow's very first Constellation Premium Dress. He would also like her to come and use it during an upcoming show, which she accepts. But he is having a lot of trouble thinking up a proper stage design for it and wants to do it himself since it's supposed to be special. Otome questions him, but he claims to be fine before they both hang up. Makoto looks over his sketches he has sitting before him and is unable to think of anything, so he decides to go and find something that has Otome's face for more inspiration.
As Otome announces how happy she is, she is joined by Maria. Maria mentions that Aoi gave her the directions after she got a hunch as to where Otome would be. Maria doesn't understand why Otome would be at a kindergarten though until Otome explains her parents started it up years ago. It's her home and she had been raised here until leaving for the Academy. Maria comments on how it fits her before she helps Otome clean everything.
As they are cleaning, Otome mentions that everyone is out on a field trip, which is why it's empty today. She also brings up the upcoming fun fair, where they put on a play with everyone. She announces that this years play with be The Wizard of Oz and Maria asks if she can help her set the stage. After Otome mentions the many memories from when she attended the school, Maria asks her if she would tell her about them, which Otome is eager enough to accept.
When she was little, Otome always loved to sing and dance. After entering elementary school she began to help out around the kindergarten after school, although she mainly just played with everyone. For that year they decided to put on The Wizard of Oz play for the Fun Fair. At first they had a lot of fun, and one of the students, Nagisa was decided to play the role of Dorothy.
When it was her turn to go over her lines, she panicked and ran out onto the playground instead and hides on top of the jungle gym. Otome asks her to come down but she refuses, making her ask Nagisa why she's doing this if she likes Dorothy so much. She offers to go over the lines with her, but when Nagisa compares how talented Otome is compared to herself, she begins to feel worse. In hopes of calming her down, Otome admits to her that she has never gone down the slide before, which surprises Nagisa greatly.
As Maria and Otome begin to repaint an old, faded rainbow prop, Maria stops to ask Otome about this. She explains that as a child she had a big fear of heights, so then she asks Maria if she ever slid down a slide before. Maria mentions that she never got to use a slide before, but she used to slide down the mountains from her home. Maria then asks Otome about Maria again and they look back to the slide.
After Otome told Nagisa her fear with heights, she slowly began to walk up the steps while growing increasingly nervous. She gets frightened about half way up and Otome admits that she is afraid of heights. She always gets jealous of others when she saw them use the slide and has tried many times, but she was unable to. However, she keeps trying anyway because someday she wants to be able to go down it. She tells Nagisa to make a promise with her, that one day Otome will face her fear of heights and Nagisa will continue on to be Dorothy. They girls pinky promise and since then, they both would train for their respective goals. At first, the two of them would struggle, but they would keep working at it.
But on the day before the Fun Fair, everyone was going to do one final rehearsal. As she stood on stage, Nagisa struggles to deliver her line and runs off the stage again. She hides in the back and Otome follows her, trying to tell her that they both worked so hard to do it. But she was unable to get through to her until she claims she will keep their promise. She heads outside as Nagisa watches and begins to go up the steps. As she is close to the top she panics for a moment, but realizes that she has made it in no time. Nagisa is very happy for Otome and Otome goes down the slide for the first time. The two girls then share a loving embrace.
As she and Maria stand on top of the slide, Otome mentions that after that she fell in love with slides. So much so that she always goes down them a bunch of times when given the chance. Nagisa was also able to go on and play Dorothy during the play.
As they talk, the girls both go down the slide. Unknown to them, they are watched by Makoto who takes off after a few minutes. Maria mentions what she brought with her and the two girls then head inside for the snack.
Come the day of the show, Ichigo, Aoi, and Ran have come by to see it. Aoi mentions how excited her fans are while Ran mentions she stayed up really late to practice.
Inside the dressing room, Otome brushes her hair and begins to pull it up. On stage, Makoto introduces himself while everyone joins the audience. He explains his inspirations behind Happy Rainbow and how it became started, and he explains why he feels Otome is perfect for it. He then shows the Lollipop Taurus cards to everyone on the monitor as Otome gets to the back stage. She puts the cards into their appropriate slot and changes, appearing on stage. There she performs to "CHU-CHU♥RAINBOW".
As the performance goes on, the girls admire the sweet, lovely stage, as well as her coord. After the performance ends, Otome comes back stage and asks Makoto about the slide appearing on the stage. He explains that he saw her on the slide the other day and had to include it. The others compliment her job well done and Makoto mentions that a girl came to see Otome.
To her surprise, Nagisa appears. The two girls embrace as Maria asks about her, wondering if she was the same girl Otome mentioned. She compliments how big Nagisa has gotten since they were just little girls. Nagisa mentions that she watches her on stage all of the time and promises to keep supporting her, which causes Otome to embrace her again while everyone shares a laugh.
Characters
Trivia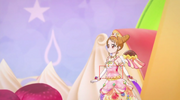 Animation Trivia
This is the first time Otome's past is looked into in the anime.
At one point during the performance, there was an animation hitch which altered the design of the Lollipop Taurus Coord.
Gallery