That Rocking Girl is the Dream☆Girl (ロックなあの娘はドリーム☆ガール, That Rocking Girl is the Dream☆Girl) is episode 51 and the season two premiere of Aikatsu! anime series adaption. The episode premiered on October 3, 2013.

The episode's scenario was written by Yoichi Kato, Ryuichi Kimura did the storyboard while Shin'ya Watada directed the episode. The animation directed by Ryō Kodama and Satomi Watanabe.
Story
There's is a new rival school "Dream Academy" and rumor has it that a great new face makes her debut from there. When it's annouced that she will be facing Aoi in a live concert duel, she struggles realizing how much she will lose if she doesn't beat her.
Summary
Aoi Kiriya and Ran Shibuki introduce themselves and the school to the audience as they leave for their plans. Aoi has been focusing on her career as an actress and was invited to a special event for her movie "Naughty Police Chief: The Movie" while Ran has been focusing on her modeling work and has become the representative model for her favorite brand, Spicy Ageha.
As Aoi is leaving she sees many fans there for her and for a moment, thinks she sees someone familiar to her. But it only ends up being a girl who resembles her. While heading back to the school she mentions that a year has passed since Ichigo left for America. At first they texted each other as much as they could but now it's only once in a while. She thinks about the amazing things Ichigo could be up to and meets with Ran. She notices a bunch of girls nearby but doesn't say anything about it until after Ran shows up and they notice two girls step out of a limo.
Aoi begins to inform everyone about the brand new idol school, known as Dream Academy that has appeared within the last year. Right now the idols are popular there and she uses this moment to take a picture of Sora and Maria. They continue their discussion after grabbing some drinks in the building they have work to do in and mention that lately everyone has been talking about the girls of Dream Academy. They are on practically everything and have been covering a lot of the rankings list lately. Just a year ago it was mainly everyone from Starlight School.
While Aoi is excited, being an idol professor, Ran reminds her that they need to remember that they were there first. Those idols of Dream Academy are their rivals. It's then Yurika stops by for a surprise with Kaede. They mention that they ran into each other and lately everything has been down at Starlight Academy. Otome Arisugawa comes by and tells them to cheer up, along with Sakura and Shion. Yurika tells them that as the only still active unit group at the Academy, they are obviously still in good spirits. Even so much more now that they have a show named after them. But they have also been attending events like candy festivals and bird watching.
It's then announced that Otome is the reigning Starlight Queen since Mizuki and Ichigo left. She is very happy and wishes to follow in Mizuki Kanzaki's footsteps. After they take off, Yurika mentions that they need to remain on guard in order to avoid losing to Dream Academy. But it's then a strange girl interrupts them. They don't recognize her and after she comments on how she wont lose to them, she leaves.
That evening, Aoi tries to figure out who this girl is but nothing has come up. Ran points out that she may not be an idol and Ran decides to agree with her, only to add that she reminded her of Ichigo back before they turned into idols. She may not have been one but she could really smell it.
The next day, the headmistress Orihime Mitsuishi is giving two important announcements. First is that the Aikatsu cards, since they have undergone a historic advancement, their outfits on stage will be changing and the brands have all come together to create one new series theme known as "Constellations." The top brands have already been producing their brand new constellation dresses and she is hoping this will open up a whole new world of Aikatsu to everyone.
A strange woman interrupts, only to be told by Johnny that she wasn't supposed to be on stage yet. But she got so excited, she couldn't wait and Orihime moves aside while introducing her as Tiara Yumesaki, the headmistress of the rival idol school, Dream Academy.
She introduces herself to everyone and reveals the second announcement. The two schools will be holding a face-off concert because it has been a year since the school has come and never once has an idol from both schools been on stage with each other. So they discussed this together, and they go on to announce who will be performing against one another. From Dream Academy it will be the massively new idol who has gained popular with ease. Orihime also announces that she's chosen Aoi to represent Starlight Academy for the concert.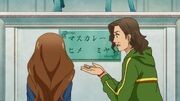 As she walks through the halls, Aoi watches a news event announcing the idol news. The girls happen to find Orihime and Johnny in front of the Masquerade statues and to his shock, she informs him that if Aoi loses she will resign as headmistress. If she loses then Starlight Academy will lose it's place in the idol world and because she accepted this, she will be the one to take responsibility for the lost. This adds more pressure onto Aoi as the two girls watch from behind the door.

The mysterious girl is with Tiara in her office going over how soon the concert will be coming. She is very excited and happy to finally have her chance to open up more doors for herself, but she grows curious when Tiara reveals she will also be opening up more doors for all Aikatsu.
While this goes on, Ran and Aoi are running laps outside. Aoi is worried that she may lose but she plans to give it her all despite that. Given how high the stakes are.
Back at Dream Academy, Tiara reveals that the girl will be given a producer that is able to bring out all of her charms. The girl doesn't ask and instead looks to the image nearby so that she can see who the producer is, while Tiara tells her to trust the girl.
The day before the concert rolls around and Aoi receives encouragement from Ran and Johnny as the mysterious girl walks in. She introduces herself as Otoshiro Seira begins to explain who she is to them. But she is interrupted by Kii, who introduces herself as a third year Dream Academy's producer course student. She informs to Seira that while it's okay for herself to be introduced, Seira should only reveal little things about herself at a time. But because of her big mouth Kii accidentally reveals everything.
Seira informs her of this and while she feels badly, Aoi is able to connect with her on the sense that she also wants to spread everything she knows about the idols she loves to others too. They take their leave soon after and come to the backstage area where Seira expresses joy in knowing that starting today she is now an idol. Kii is sure she will do fine because of her huge background in music and now is her time to show her idol side.
But before Seira can do anything, Kii grabs a hold of her hair and pulls it up into a ponytail. Seira likes it, and Kii also takes the time to explain how important the coord cards will be as she hands her the premium coord from Swing Rock. Then Kii gives Seira a hug and she steps into the Fitting Room to become her idol self. She gets onto stage and sings "Idol Activity! (Ver. Rock)."
After her performance, Aoi and Orihime, along with everyone else seem to be very impressed by Seira's performance. They try to figure out what her appeal was, finding it unrecognizable. The man announcing the performance reveals it is called a "Constellation Appeal", but this causes Aoi to worry more and more.
While Tiara and Kii think she has it easily won, Seira doesn't seem as sure and receives a Proof of Scorpio, which is a special marking given to idols that can perform the Constellation Appeal.
That night, Aoi worries and thinks back to what Johnny had told her about the Constellation Appeal. They can only be performed when wearing the new constellation dresses and not everyone can perform them. You have to max out the audience's voltage rating in order to use it. Which leads Aoi to believe that it only comes down to her skills as an idol now. She tries to think of what Ichigo would do and cheers up a little, just enough to fall asleep.
Meanwhile, someone mysterious is talking to Tiara about who they think will win tomorrows live concert. The mysterious person also mentions Ichigo.
Come the next day, the announcer mentions that since Seira has performed yesterday, today Aoi will proceed to do the same. One of them mentions that if she is unable to perform a Constellation Appeal then she probably wont win. But Ran turns off the television and she tells Aoi to ignore them. Aoi knows she can try as hard as she can but if she loses then Orihime will resign as headmistress.
Suddenly Otome pushed the door and bursts inside to inform them that she saw a great problem. They are unable to tell what it is, but suddenly
"Ittsu mī!
I have returned, I am home!"
With a bright and cute voice, wearing American-style clothes and boots and a familiar ribbon,
Ichigo Hoshimiya comes inside.
Character Appearances
Trivia
Major Events
Animation Trivia
Referbacks
Cultural References
Gallery
Ad blocker interference detected!
Wikia is a free-to-use site that makes money from advertising. We have a modified experience for viewers using ad blockers

Wikia is not accessible if you've made further modifications. Remove the custom ad blocker rule(s) and the page will load as expected.