Strawberry Parfait♪ (ストロベリーパフェ♪, Strawberry Parfait♪) is the 38th episode of Aikatsu! TV anime series and the 38th episode of its "1st Season" (1年目, "1st Season" lit. "First Year"). The episode aired on July 4, 2013.
Synopsis
As the trio try to determine who should be Soleil's leader, Otome decides to form her own idol unit with Sakura and Shion, Powa Powa Puririn, whilst Mizuki takes an interest in Yurika.
Summary
Ichigo, Aoi, and Ran discuss the sudden popularity their unit group has gained within such a short amount of time. Ran is reminded of her cards she still owns from Tristar and begins observing them until the girls begin to laugh. 
Meanwhile, Mizuki and Orihime are discussing the sudden change in plans. Orihime points out to Mizuki that it isn't like her to think her judgment was wrong once she's made a decision, but Mizuki smiles and claims she can find someone to fill in the third position. Someone meant to have it.
That night, the trio are in the dormitory trying to figure out who should be the leader of the group. It's important to pick one right away, and Aoi claims that it's important to choose someone full of passion. Ran also points out that they should have a leader who can support and encourage everyone. Then they begin to describe Ichigo, who takes a few minutes to realize they were referring to her. At first she is very surprised, but Aoi and Ran explain why they think she would fit the job well and Ichigo slowly agrees. But when she begins to act goofy, Ran asks Aoi if maybe they made a mistake.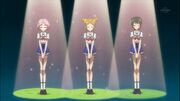 The following day the girls go out for a run when Ichigo decides to call a break. Ran uses this time to ask why all they do is jogging and Aoi explains how it helps keep up their stamina. They are joined by Otome, Sakura, and Shion, who have come to announce their plans to make their own idol group. Ichigo is very happy, while Ran questions this, since she hadn't heard of anything official regarding a third unit, but Otome simply tells her that they are going to be managing it themselves. She also reveals the unit name, although Sakura and Shion do not share her passion for her choice. She also chooses to be the leader - which neither of them thought about either.
In the dorm room, Shion and Sakura are discussing the idea of a unit group again. Otome shows them that she's already gone ahead and wrote lyrics for a brand new song, then she reads them. While the girls seemed surprised at first, Sakura claims that it is a very special piece that couldn't have been wrote by anyone else. She even mentions that it goes beyond human understanding, causing Shion to admit that she doesn't fully understand it herself. Otome becomes frustrated and claims that it isn't finished yet, so she goes on to read more to them. Shion admits to being tired already, but Sakura believes that even if it is strange, it is still Otome's song. Besides, she is sure they will have a lot of fun, though Shion points out that they should think of toning it down a little. 
Outside, the girls hold Ichigo's legs while she trains - unaware that they are being watched by Mizuki, who decides to take off afterwards to observe the students all over campus. She tries to decide who to add to Tristar and happens to hear someone, spotting Yurika. She is out running, trying her parasol with her, stopping as she panics over being slightly exposed by the sun. She claims to be fine since the three-second rule applies, then she resumes running. Such a display amazes Mizuki, since Yurika kept in character.
In the training room, Soleil has just finished practicing. The dance teacher comments that each song should include a segment that fans would be able to do easily, to let them feel more included. She worries that their dance may be too hard for them though, then suggests that they tone it down before going on regarding coords. When they ask her for more details regarding what she is saying, she tells them to figure it out themselves like she always does before scolding Ichigo for not being like a leader and thinking over the direction she wants to take the unit in. 
Ichigo thinks over what the dance instructor meant and decides to dress everyone up in giant mascot costumes. She is sure this is what she meant, since she thinks if they can dance in these suits then they can overcome anything thrown at them. While Aoi understands, Ran is annoyed since she got stuck in the doggy costume and would have rather been the bunny. Ichigo tells them to focus and they set out for training right after. 
The girls stop later on and Ichigo has a snack while Aoi and Ran ask her what type of unit Soleil should be. Instead of answering, she asks what a leader even does. Aoi explains that some leaders take charge and focus on displaying everyone's abilities as a group, while others back off and let each member express their unique qualities, and some even take position of the manager and handle the scheduling, who makes what appearances and basically bring out the members latent strengths.
Ran goes on to claim that none of these seem to fit Ichigo very well and they ask her once again what she wants. Unable to decide, Ichigo promises to think it over and suddenly gets an idea. She begins to describe an idol unit while comparing it to the layers of a parfait, which causes Aoi and Ran confusion until they slowly begin to understand. Each of them needs to bring their own strengths and uniqueness to make themselves a special parfait, instead of a plain one.
In Orihime's office, Johnny begins to complain about Ichigo being the leader of the group. Orihime doesn't think much of it though and compares Ichigo to a linchpin. She has the ability to bring others to her and holds everything together, although she cannot do very much on her own either and needs others to help her. It's then Mizuki comes in and announces that she has made her decision for who should be the third member of Tristar.
Later as Ran walks through the hallway, she runs into Mizuki. Mizuki comments on how much better she seems now, but as idol units they are still rivals. She mentions to her that she has decided who will take her place and Ran asks to pass the Cyan Trio Coord cards to the new member, which she agrees upon seeing how much Ran would like to do that.
Around school everyone is discussion the idea of a brand new member being picked and a press conference is soon held. Mizuki and Kaede announce that their third member is Yurika, who enters the room, causing everyone excitement. The other trio watch, feeling as though they should have known this would happen, but they are still surprised. Yurika is then given many questions, mainly involving how she feels, if she's told her family yet, and if she feels any stress or pressure yet. But Yurika claims she never feels pressure, which Ran feels is amazing since she isn't even bothering to hide her personality at all. This makes the trio excited, until it's announced that a special live event will be held between Tristar and Soleil. They had no idea this would happen, but they are quick to agree to it.
That night, Yurika is sitting by herself and Ran locates her. They sit together and chat about her being invited to join Tristar. Ran hands over the Cyan coord cards to her while encouraging Yurika to do her best, and to show her a good performance, which Yurika promises.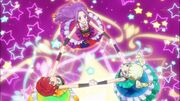 The following day, Soleil shares a cheer with each other before they begin their performance to Diamond Happy. Tristar then takes their own turn and perform to Take Me Higher.
Once they finish, everyone comments on how well Tristar's performance was. Orihime and Johnny express joy also while she mentions all three units and how far they will go.
Character Appearances
Trivia
Powapowa-Puririn, an independent idol group that consists of Otome, Sakura, and Shion is announced in this episode.
This episode includes one of the few times the outfit change scene isn't shown before a performance. This is when Soleil performs, but not when Tristar does.
Gallery
Ad blocker interference detected!
Wikia is a free-to-use site that makes money from advertising. We have a modified experience for viewers using ad blockers

Wikia is not accessible if you've made further modifications. Remove the custom ad blocker rule(s) and the page will load as expected.