Enjoy♪ Offtime (エンジョイ♪オフタイム, Enjoy♪ Offtime) is the 24th episode of Aikatsu! TV anime series and the 24th episode of its "1st Season" (1年目, "1st Season" lit. "First Year"). The episode aired on March 25, 2013.
Synopsis
During their time off from Idoling, Ichigo, Aoi, and Ran decide to visit a Hot Springs. But after they step off of their bus to observe some flowers they are too late to catch the last bus and find themselves in a tight bind. 
Summary
The trio change into their coords to partake in an audition. They perform to "Ponytail After School", with each girl performing an appeal.
Once it comes to an end, they comment on how nice it was to finish their last audition for the time being. Ichigo and Aoi are excited for Spring Break, but Ran informs them that for an Idol, it is Off Time, not Spring Break. They go to the dormitory to go over Fashion Central, a place they all wish to go have a shopping spree at, as well as go out to eat. Ran comments on how easy this sounds and the girls ask her what she considers "off time" to be. Ran believes visiting a hot springs would be best since there is an ad for it.
Ichigo comments on how grown up this decision is, but Aoi doesn't understand how it Ran considers it to be an Idol thing until Ran points out that Mizuki had snuck off from her vacation to visit one. This causes Aoi to realize that she could kill two birds with one stone, since she had intended on making a spring report. It would also be really good for their skin and foods they sell will just taste that much better. 
Come morning, the trio all meet up. Ran is surprised to see the luggage Aoi brought with her, but she assures she just wants to make sure they can be ready for anything. As Ran quickly tells her to put it away, Ichigo runs up and apologizes for being late. Raichi had kept her up to make sure she remembered to take pictures of Aoi, and she just happened to miss one of the transfer trains. They all compliment each other for their Spring coordination they chose for their little adventure, but stop when a couple happen to recognize Ran. The girl asks her to shake hands and announces herself as a fan. Ran kindly responds as Ichigo curiously watches. 
Once they leave, the trio board the train and they take off their disguise items after realizing their identities aren't at much risk. Ran scolds Ichigo over her excitement, since it's considered unprofessional but Ichigo tells her this moment is special since it's the first time they're all going on a trip together. She starts to imitate Johnny-sensei when another fan happens to approach them - this one an older woman who recognized Ichigo. However, she doesn't recall her name and asks for an autograph after Ichigo introduces herself. She is a little confused, but she takes the little wrinkled paper and eager to please, begins to sign her autograph. 
After the woman leaves, the snack cart woman walks along the train asking if anyone would like something to eat or drink. The girls ask for some bento, but Ichigo isn't very sure what to get since they don't have a seaweed bento, her favorite. When nobody can make up their mind, Aoi suggests that she and Ichigo can split the healthy bento. Ichigo agrees before telling Ran that she should get the hamburg steak bento, but Ran accuses her of being the one who really wants it before voicing her desire to just order a few sandwiches. Ichigo tries to convince Ran to get the hamburg bento, but it doesn't work.
The girls all order a separate item and begin to eat, with Aoi practicing a food report with Ichigo. Ichigo discusses the selling points of her bento, then mentions the dexterity and texture before she eats a bite. She explains how wonderful the taste is and adds which side dishes she believes would be good. Aoi ends the practice, then Ichigo takes the piece of parsley that Ran was saving for last. She regrets the idea and ofers her some pickled vegetables, though this doesn't really help much. Aoi is able to keep the peace though by suggesting that they have some tea. But it doesn't work, so they settle for a more mature drink, cafe au lait.
Eventually Ran points out that they are crossing over the sea. Ichigo feels sad that they can't go for a swim and hang out at the beach. But she reconsiders after they explain that a tan is no longer considered nice or healthy for an Idol. Throughout the remainder of their trip, the girls take naps and also play a round of cards until they soon arrive. 
However the girls find themselves in an area they didn't expect and assume that they are at the train station still. Aoi looks up something with her phone to point out that by bus, it will take twenty more minutes to reach the hot springs. They happen to spot a vehicle that they think is the right bus, but they find it somewhat stranger while riding it, since it's a lot different then what they are used to riding. Ichigo opens the window to observe the beautiful scenery outside and comment on it's relaxing nature before shutting it.
As they are passing by a field of Rape Blossoms they ask the driver to stop the bus so that they can get a better look. Since it is so early, Ichigo suggests that they should have a flower viewing with some tea. They take out their tarts; a cream cheese, chocolate, and fruit, but after Ichigo is unable to decide which she wants the girls play rock-paper-scissors to decide. Aoi gets the first choice but can't decide either, given how each one was specially made and well thought over. The cream cheese was carefully picked and sent from Burgoyne, the chocolate was imported from Paris, and the Fruit has entirely hand-grown fruits from an Organic Farm. 
To settle this, Ichigo gives Aoi the fruit tart by claiming it fits her image, then she swipes the chocolate one for herself, which both Aoi and Ran wanted. They call Ichigo greedy and start to chase her around before deciding to split each tart so that they can all have some of each. Ichigo is disappointed over her small chocolate tart piece but Aoi and Ran find it fair since they just gave her the piece she already began to eat. To go with the tarts, Aoi pours some Earl Gray Tea while explaining that it is a form of Black Tea. Once they finish eating they all lay down to relax for a while, with Aoi and Ran voicing concern over gaining weight if they were to fall asleep a certain way. To their surprise they find Ichigo is already asleep though, so they allow themselves to drift off to sleep as well. 
After Ichigo wakes up, the other two do and Aoi points out how late it is. If they do not hurry then they won't have very much time at the Springs. They head back to the bus stop but are unable to figure out when the next bus will be coming by, since the last one was just a lucky moment. Ran points out that it doesn't matter anyway since they will need to get back to the train station now. Or else they risk being too late to get home. Aoi feels bad since she hadn't looked this up back at home, while Ichigo blames herself since she was the one who wanted to stop and see the flowers to begin with. With no other option they decide to walk to the station.
Aoi mentions that they have an hour or so to walk, then Ichigo offers to take her suitcase since it's probably heavy. She refuses at first, but Ran takes it since she claims it would only be fair since Aoi packed so much for them all in it. They all soon begin to carry it while Aoi is still feeling remorse, but Ichigo and Ran keep telling her that it is okay.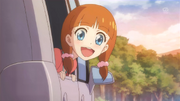 A vehicle happens to pass them by and suddenly stops. A girl appears to ask the girls if they are really who they look like, and she tells the person inside that she was right after they confirm it. She mentions how she has been basing her fashions off of them since it makes her really happy and they fill her in on why they are out so far. She offers to give them a lift to the station and at first they refuse, but after she reminds them how far away it is, they are quick to reconsider and hop in. 
While on their way home, Aoi voices how tired she has become. Ichigo mentions that although they weren't able to reach the hot springs it was still a lot of fun and they look outside to observe the ocean, again admiring it's beauty. Now that the sun has began to set it looks even more beautiful, but Ichigo is caught off guard when she gets a text from her father, announcing his arrival at home. 
Character Appearances
Trivia
This is the first time the complete gang isn't shown together.
This episode reveals that Ichigo's father works away from home.
This is the first time that the audition performance is shown before the opening.
This is the first time the song Ponytail After School appears.
This is the last episode to use the original timeslot[1].
For their trip, Aoi packed: Three raincoats, her laptop, a charger, A first aid kid, a sewing kit, tarts, dishes, silverware, tea, and cafe au late.
This is the second time Ichigo was shown stealing someone's food.
Gallery
Ad blocker interference detected!
Wikia is a free-to-use site that makes money from advertising. We have a modified experience for viewers using ad blockers

Wikia is not accessible if you've made further modifications. Remove the custom ad blocker rule(s) and the page will load as expected.