Move on Now! is the 9th episode of Aikatsu! TV anime series and the 9th episode of its "1st Season" (1年目, "1st Season" lit. "First Year"). The episode aired on December 3, 2012.
Synopsis
As Ichigo, Aoi, and Ran train for their special audition, they ask Johnny for help in obtaining Premium Rare Cards.
Summary
The girls are all busy training for the special audition coming up. Ichigo and Aoi are too tired to continue on but Ran tells them that they need to do at least five more laps before they can stop. They need to work twice, maybe even three times harder than usual, and normal training isn't good enough. With this in mind, Ichigo agrees to keep working.
In school, Ichigo expresses joy in being able to perform with Aoi and Ran. Ran mentions the Premium Rare cards, discussing their rarity and difficulty to find, and wanting to know more, the trio approach Johnny-sensei. He explains to the girls how special the cards themselves are and points out that they can only be obtained when the Top Designer approves of them as an Idol first. While it's a seemingly impossible task, he promises to set up appointments for each girl and the designer of their choosing, then he leaves to beg Orihime for help.
During lunch, Aoi brings up the song they should perform to when Ichigo suggests Mizuki's own "Move on Now!", since it's very special to her. Ran also likes the song and agrees to this, then decides that for extra practice the girls should use their breaks to train. After finishing lunch they head to a quieter area to train in private. But this becomes seemingly difficult as Aoi and Ichigo are more aware of how Ran continues to act distant with them. They try to encourage her to be friendlier, but when it doesn't work they give up and resume training.
As the days pass the girls work very hard until the day before the audition. They finish the song and decide they should focus on something else since they've worked this hard for now, but they are rather concerned since Johnny has yet to get back to them. After they confront their teacher, he promises that with a little more time everything will work out in the end.
Heading over to the Library, the girls decide to study the brands a little. Aoi spots Michelle and Asami, two girls who formed a duo unit, and she begins to fawn over them. Ichigo and Aoi run over to greet them after they spot Ran casually conversing with them, and Asami mentions that Ran usually doesn't make very many stops by the library, then she offers the girls some papers that she and Michelle accidentally made too many copies for. They are joined by Johnny who has come to inform the girls that he managed to get appointments for Aoi and Ran, but not Ichigo as of yet. 
Aoi and Ran leave so that they can hurry up and get to the meetings while Ichigo heads back to the Dormitory. She uses this time to study any history related to Angely Sugar that she can find - but ends up drifting off to sleep not too long after. She is awoken after Ran and Aoi arrive back later in the day, showing her their brand new Premium Rare coords. While happy for them, Ichigo is beginning to feel anxious.
With things not looking much better, they make the decision the next day to just not use the cards if Ichigo has none of her own. They will use the time they have left to finish practicing and as they are just finishing, Johnny arrives to announce that he finally got word from the top designer of Angely Sugar, but it's too late for Ichigo to go and return back in time now, so he suggests that she waits. However, Ichigo stubbornly refuses and they quickly take off after he offers to drive her to Angely Mountain. 
Eventually they come to a sign labeled Angely Sugar, but Johnny is unable to go any further so he informs Ichigo that she will be on her own. She gets out of his car and heads to a crossroad; both of which paths have the same sign on them. She uses an electric map on her phone, along with a hand-drawn map after the batteries die, and continues on her way.
Aoi and Ran are highly concerned regarding Ichigo, as they are unsure if she will make it back in time or not. They try to contact her with the use of their phones, but they get no response. A man then comes into the room to tell the girls that their turn is approaching, then warns them that they will just perform as a duo if Ichigo is unable to return in time.
As this is going on, it is revealed that Ichigo is busy climbing a mountain. By the time she reaches the top, she is found by the Gardener. He brings her inside to meet the top designer, who is quite amazed that Ichigo climbed up the hill with an old map, when she could have just taken the elevator that they had put in. She introduces herself as Asuka Amahane and Ichigo introduces herself before mentioning why she came so suddenly. She asks to use the Premium Dress while describing her love towards Angely Sugar, and Asuka quickly agrees before revealing the entire wardrobe. She goes on to say that Ichigo is worthy of the brand due to her bravery; risking her life by climbing the mountain just to speak to her. She finds this to be a sign of fate and decides to give her the cards belonging to the Aurora Kiss Coord.
After changing the outfit items into a set of cards, she thanks Ichigo for stopping by and they lead her to an elevator, so that she can use it for future purposes. Ichigo takes her leave after thanking them.
Aoi and Ran realize that only ten minutes remain before they will be forced to go on without Ichigo. Michelle and Asami have just finished, but with the final minute approaching Ichigo manages to make it. She is very happy and claims that they will be fine as long as they believe in each other. They also note that Ran has finally joined in on doing the special chant and addressed Ichigo by name, but with little time to linger on it, they run into the changing area and get onto stage, performing to "Move On Now!".
After their performance, Orihime announces that the trio, along with Michelle and Asami have all passed the Audition. Ichigo is so excited that she can't sleep and she goes out for a walk while observing the mastery mark they received for passing. But while she is out she runs into Mizuki, who comments on how well the girls did before taking off.
Character Appearances
Trivia
Major Event
Ichigo, Aoi and Ran take their very first special audition.
Animation Trivia
This is the first episode to use the 2nd generation CG technique in Aikatsu! The DCD hairstyle is kept half, and the face changed to appear less thinned and flat. 
Ichigo, Aoi, and Ran get the Knowledge of Song which introduces Knowledge in the anime.
This marks the debut of Michelle Tachibana and Asami Himuro.
This also marks the debut of Asuka Amahane.
This episode also marks the debut of Aurora Kiss Coord, Milky Way Cosmic Coord and the Rose Bonbon Coord
This episodes Aikatsu! Aphorism is the very first one to be written out in English.
Gallery
Videos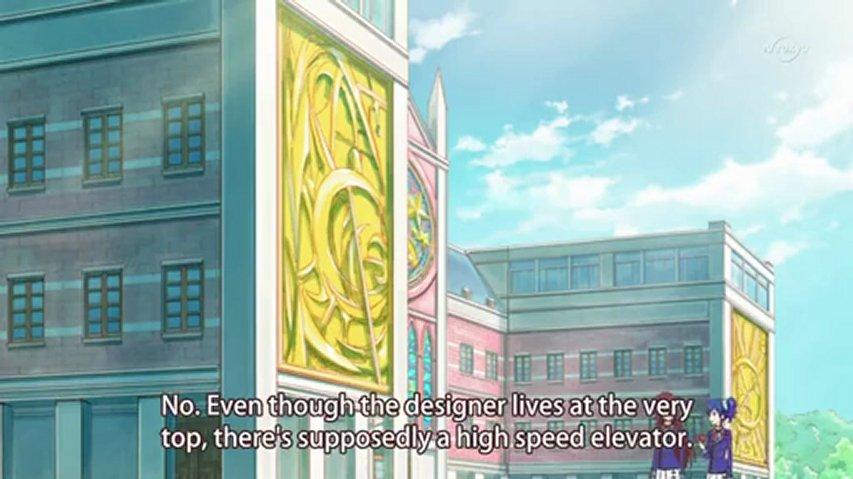 Ad blocker interference detected!
Wikia is a free-to-use site that makes money from advertising. We have a modified experience for viewers using ad blockers

Wikia is not accessible if you've made further modifications. Remove the custom ad blocker rule(s) and the page will load as expected.