The Underground Sun
Episode 08
Episode Information
Kanji
地下の太陽
Chika no Taiyō
English
The Underground Sun
Air Date
Japanese Air Date
November 26, 2012
Other
November 8, 2014 (Indonesia)
January 29, 2014 (Hong Kong)
December 5, 2014 (Taiwan)
Featured Songs
Opening
Signalize!
Ending
Calendar Girl
Insert Song
Idol Activity!
Episode guide
Previous
Next
← Beware the Blog
Move on now! →
The Underground Sun (つぶやきにご用心, The Underground Sun) is the 8th episode of Aikatsu! TV anime series and the 8th episode of its "1st Season" (1年目, "1st Season" lit. "First Year"). The episode aired on November 26, 2012.
Synopsis
Ichigo discovers an underground studio after getting lost. The mysterious idol who resides in that studio is later revealed to be Ran's rival; and with an upcoming annual audition, Ran is determined to beat her!
Summary
Ichigo is currently working on a vlog as she goes around campus detailing her adventure of taking some items to the underground storage room that they used for Drama Class. She soon realizes she has gotten lost and happens to notice a light up ahead. When she peaks inside to get a better look she sees a girl training, but because of the light she can't get a good look at the girl.
Later while waiting for class to begin she goes over what she saw to Aoi. She points out that a girl hasn't been attending class since they begun and they decide to ask Ran. But before they can, Johnny Bepp arrives to announce a sensational audition coming up to decide which student has become the most popular in the entire world this year. Whoever wins will get to go on a special trip to Hawaii for a photo-shoot and everything. Everyone believes Ran to be a shoe-in but she admits that she keeps losing to a specific someone every single year. 
It's then a girl walks into the room, immediately catching everyone's attention. Aoi quickly recognizes her and tells Ichigo about the mysterious girls talents; adding that she has never once been on a live stage before.
When class ends the girls decide to get to know the student, a girl named Hikari. But she doesn't recognize them until Ran mentions them arriving to the school while she was busy with her Net Live Tour. Which is a concert broadcast around the world and shown online. While Ran sees how excited Ichigo and Aoi are, Hikari finds them annoying and leaves after she brings up an interest in competing against Ran again. Ran is frustrated, but Ichigo and Aoi are excited to see her perform. They ask her to join them but she takes off instead. 
Later on Ichigo and Aoi try to find the storeroom again when Ichigo spots the light up ahead. She recalls how it led to a Studio earlier and look inside, realizing that the girl is Hikari. But before they have time to react the lights suddenly go out in the room and Hikari appears, scolding them for watching her the way they did. They try to explain why they were there but she's still frustrated since they intruded, but she finds trying to reason with them worthless since they don't get it. 
Once they exit, Ichigo and Aoi find Ran practicing outside. She mentions the anxiety she's gaining and feels rather pathetic because her usual skills won't be good enough to put her onto the same level as Hikari, so she has to keep working. They mention what happened earlier and she mentions that Hikari has always been secretive and valued her privacy, but she is always focused on her fans, first and foremost.
At their Dorm, Ichigo and Aoi start to wonder how talented Hikari really is since Ran never gets worked up like this. They decide to check out whatever info they can find and happen to see the Concert she had recently done online, noting the many messages and comments she received from the fans during it.  
Meanwhile, Johnny and Orihime are going over Hikari's reappearance. 
Ran busily stretches in her dorm room when she notices that Ichigo stopped by to drop off some Juice. She appreciates the gesture and attempts to have Aoi and Ichigo join her for some, but it turns into a demand rather quickly. They look on in amazement while observing her room and go on explaining the details of what it took to make the juice. At one point Ichigo even wanted to put Yakiniku into the juice, but she stopped her before she could.
It's then Ichigo spots two Spicy Ageha cards. Ran mentions that it is her favorite brand and she tends to save them for bigger performances. She had obtained these cards after meeting the model who runs Spicy Ageha as it's Top Designer about a year ago. Since the woman rarely comes to the Academy Johnny had tried to encourage Ran to speak to her. She did, and soon she gained the chance to perform while wearing the brand clothing. Since then she received a special letter from her, and in it were these two coord cards. 
From this touching story, Ichigo decides that as she was unable to make Ran have any Yakiniku, she will have to eat some for everyone and use all of the energy she will gain from it to cheer for Ran. 
Soon the Audition arrives. While waiting for their turns Ran and Hikari talk for a moment. Hikari believes that Ran has changed since their last battle, since she's never seen her like this. Ran also mentions that this is the first time she is actually thinking about her friends during a performance. They change outfits and get onto the stage, where they begin their performance to "Idol Activity!". 
After the performance Hikari and Ran speak outside of the building again. Hikari compliments Ran for doing much better this year and claims that she may almost be at her level. This makes Ran happy and she mentions that next year they will finally settle their rivalry, which Hikari agrees with before they both separate from each other. 
As Ran arrives back to the dorm area she finds Aoi and Ichigo. They congratulate her and ask her to train them, but at first she isn't very sure until she thinks about the special Trio Audition approaching. She asks them to join her for it, and while she's never done it before, the girls are very eager. 
At home, Raichi talks to his mom about the special audition coming up. He also happens to see the Blog that was made recently by Ichigo and they watch it to the very end before commenting that she is still the same old Ichigo, despite making some vast changes in her life. 
Late during the night, Ran notices she has gotten a text from Hikari. She has decided to inform the girls that they will want to wear Premium Outfits for this Audition and she also plans on watching them, so Ran better not let her down. With that in mind Ran decides the girls need to do one hundred more squats, causing them to call her Demon Coach.
Character Appearances
Trivia
Gallery
Videos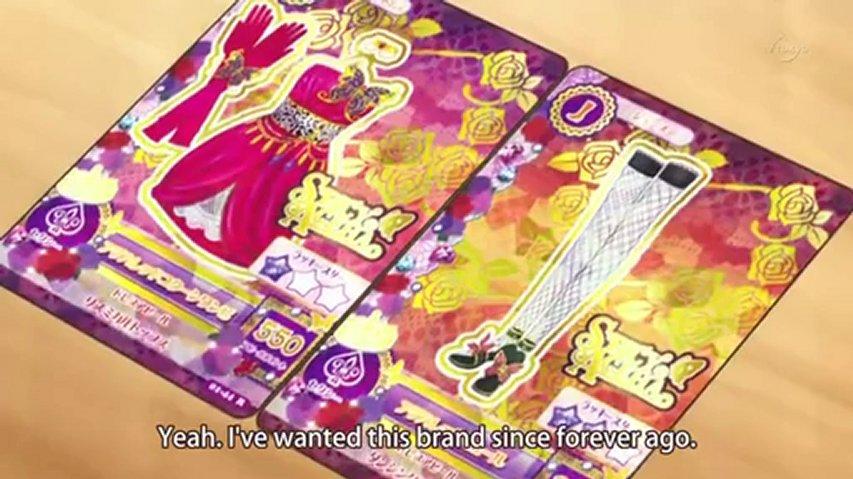 Ad blocker interference detected!
Wikia is a free-to-use site that makes money from advertising. We have a modified experience for viewers using ad blockers

Wikia is not accessible if you've made further modifications. Remove the custom ad blocker rule(s) and the page will load as expected.