Lost in an Autograph!
Episode 06
Episode Information
Kanji
サインに夢中!
Sain ni Muchū!
English
Lost in an Autograph!
Air Date
Japanese Air Date
November 12 2012
Other
October 25, 2014 (Indonesia)
January 22, 2014 (Hong Kong)
November 21, 2014 (Taiwan)
Featured Songs
Opening
Signalize!
Ending
Calendar Girl
Insert Song
Idol Activity!
Episode guide
Previous
Next
← Ran! Runway!
Beware the Blog →
Lost in an Autograph! (サインに夢中!, Lost in an Autograph!) is the 6th episode of Aikatsu! TV anime series and the 6th episode of its "1st Season" (1年目, "1st Season" lit. "First Year"). The episode aired on November 12, 2012.
Synopsis
When Ichigo realizes the importance of having an autograph she sets out to discover her own. But she finds out that it is much harder then she thought and has to learn how to make a proper autograph that fits her, as well as how to be more attentive to fans.
Summary
Somewhere in Starlight Academy, Ichigo and Ran enter the room where a photo studio has been set up. They will be getting their pictures taken for the magazine, and Ichigo is very excited. Ran tells her to be more serious since they were able to get the job, but Ichigo thinks that they should just make the best of their opportunity, which leaves Ran feeling disappointed with her lack of seriousness.
The photographer comes up to them to take a surprise picture of them. Ran poses but Ichigo becomes lost in thought. The photographer tells the girls that she looks forward to work with them and hands them the pictures. Ran goes to the nearby table and takes a marker to sign her autograph on the pictures. But after handing the marker to Ichigo, she is unsure of what to do, allowing Ran to deduce that Ichigo had never signed anything before. Ichigo admits to not even having an autograph afterwards. 
Back at school, Aoi admires all the photos of Ran and Ichigo, complimenting how impressive Ran's pictures were before asking Ichigo how it went. Ichigo informs her that they had gotten frustrated with her and the scene flashbacks to what happened. A man was ready to take pictures of Ran and asked to bring Ichigo into the photo. Ichigo strikes a generic pose, leaving the man only slightly amused. He tells her to be like herself, and Ichigo tries again, but Ran is unimpressed. As the photoshoot continues Ichigo just becomes more confused and clueless.
Aoi comments that Ran stood out in the pictures next to Ichigo and goes on to compare them to food. Ran would be the main dish, while Ichigo the side dish. She picks up another picture to see a signature by Ichigo and comments how she practiced her signature, which she wrote in Kanji. 
Just then, Johnny cuts in and looks at the photo with Ichigo's signature. He laughs at it and tells her just how bad it is before chastising Ichigo for not having a signature yet and he realizes that he forgot to prepare them an autograph after they've transferred. So he tasks the girls with having to design a signature and tells them that it is due the next day. He is very positive and expects them to come up with a great signature each. 
Ichigo and Aoi head to eat at the cafeteria to ponder on an autograph design. Aoi browses on her Aikatsu Phone of several autograph examples from other idols to get some ideas, then she admits to not having any plans in mind. Compared to Ichigo, who wants something cute and cool. They happen to spot Ran next to them and suddenly get the devious idea of asking for some advice on coming up with the perfect autograph. But they make her annoyed while continuosly begging for help and she reluctantly agrees to make them stop.
Around sunset Ran meets up with the girls at the dorm room so she can help them with autograph composition. She first takes notice of their Mizuki poster, which ultimately stirs up Aoi's story on how she obtained it, where she tried emailing her pre-order request only to realize they were sold out. As she cried her way to a local CD shop, she said she was able to get it in the end with her pre-order ticket. Ran then impressively states how she got it without crying before Ichigo points out that Ran also likes Mizuki. 
Later on, the girls prepare a table standee to plan for the autograph assignment, but Ran points out that they should change out of their uniforms. Aoi replied that they have no time to relax right now, but Ran told them not to worry, as she would only be with them for a short while. Ichigo and Aoi beg her to stay with them, and while annoyed she says she will go and change. She returns a bit later, and Aoi quickly takes advantage of this by taking a quick series of photo of Ran in casual attire. This embarresses her, but she changes the subject by showing them the snacks she brought with her. These being some dried food products like sardines and wakame. Aoi and Ichigo praise the simple food products and the fact she always eats healthy, but she admits to eating other things to and shows them a bag of rice cakes. 
With that she begins teaching them, starting with them writing their name several times in various Japanese writing styles, including cursive romaji. Ichigo started writing her name on cursive romaji, while Aoi writes her name in various Japanese styles. Aoi felt her kanji style is stiff, so Ran instructs her to shorten it by adding more curves - resulting in a stylish writing that impresses her.
Ichigo also requests Ran's attention and points out the plan to use cursive for her signature. Ran tells her to write it many times so that her hand will remember. While the girls continue training, Ran goes on her Aikatsu Phone to organize her cards while she waits for them to be done. While browsing her collection, Ichigo and Aoi became side-tracked just looking at her card collection, and eventually they become engrossed just by looking at the many rare cards. Ichigo praises the variety of sweet and whimsical attires, but this upsets Ran and she punishes Ichigo by making her write more. 
Soon night comes and Ran reviews their writing. She first looks at Aoi's and is very impressed for it's simple Japanese-style handwriting. She then inspects Ichigo's work, the result to be very complicated with cute elements; a bow, a cute bunny, stars, a chibi-Ichigo head, and creative lettering. Aoi is amused by this, but Ran thinks Ichigo tried too hard. It looks like it would be difficult to write, but allows Ichigo to technically pass because Ichigo likes it. This delights Ichigo, but she starts to feel hungry so Aoi suggests they go to eat in the Cafeteria. Ran does not really want to join them though because she refuses to eat after dark, so she allows them to have her snacks while she prepares to leave. 
As Ran leaves Ichigo and Aoi thank her for helping them. She has enjoyed her time with them, but she gets embarrassed by this and immediately takes off. To record their efforts the girls take a picture of their autographs and begin to comment on what Johnny will think of their signatures. 
The next day, Ichigo and Aoi turn in their signatures to Johnny for review. He looks at Aoi's autograph closely and was very impressed, but he is displeased with the complexity behind Ichigo's. He argues with her by pointing out the length of time it would take to write because her fans will give up and start to leave, and points out how valuable speed is to any autograph. Ichigo pauses for a second, but she starts to understand and Aoi comments that if she doesn't want to change it, she needs to train writing it faster. 
Later, Aoi carries various papers when she runs into Ran observing the news and recent idoling offers. She notices the papers and questions them, and when Aoi tells her it is for training, Ran decides to tag along.
Ichigo begins to train her writing speed while the two assist her. She tests her speed using a tether, writing a very large autograph, and later on goes to writing normally in a time limit test. She plans to have the entire autograph done within ten seconds, and by the time night comes along she is able to do it. But she feels the need to keep going and going until she eventually drops.
Ichigo gets a call informing her that a package is waiting for her in the hall. She responds to it by taking a closer look, then she spots Naoto Suzukawa. She thanks him for the help and he takes her to the package. She find a box of mandarins delivered by Raichi and Naoto leaves after. As the girls eat back at the room, Aoi mentions that people at the Shopping District have been wanting to meet them. So Ichigo decides that she can go tomorrow, Sunday, and invites Ran and Aoi to attend the meeting with her. 
The next day, the girls head for Nandemo Bento, where they were told to visit. They see many customers at the front, but also see a sign standee with "Ichigo and Aoi's Autograph Session" written on it. As they wonder about it, everyone sees the girls and surrounds them in a fanatic craze. Raichi comes outside to welcome them home, but Ichigo gets angry by this and chastises Raichi for not telling them about any autograph sessions. Raichi tells Ichigo that she said she would come, and Ringo apologizes while saying she didn't know about this going on. Ichigo agrees to stay but tells Raichi not to do it again. This causes Ran to show some sympathy and she takes off her cap and glasses, causing Raichi to recognize her right away.
Aoi asks Ichigo about their plans now since so many people came to meet them, so Ichigo decides that they should stay and do the autograph session. Aoi sees no harm in it though since they were training, but Ran plans on leaving until they beg her to stay. Outside Raichi is able to rally the people to get the girls autographs and Ran stays inside to watch them from a distance. Ringo comes by with a snack for Ran and begins to speak to her, asking for her personal opinions on the girls. 
Back outside they continue to sign the autographs. Aoi does well with both tasks, but Ichigo focuses so much on her own that the fans become disappointed. When she finishes she spots Ran and grows confused, looking to see that all of her fans left. Ran points out that Ichigo didn't treat them very well and they were let down. She has her look at Aoi's fans to see how happy they are since she cares for them, then she tells Ichigo that people come for an autograph to meet the idol. 
This leaves Ichigo speechless and she mentions that she became lost while writing the autograph. Another fan suddenly steps up to visit her and Ran reminds Ichigo to pay attention to her fan while doing the autograph. She tells her that it is fine if it becomes messy, and Ichigo takes the advice. 
Back at Starlight Academy, Johnny comes up to Ichigo and asks for an autograph. She agrees to give him one but also finds the opportunity to test her ability to sign and pay attention. She signs while conversing with him and the end result ends up being a dislocated version; causing her disappointment. Johnny laughs at this and congradulates her for mastering her very complicated autograph and paying attention to her fans. As a reward, Johnny presents her with a rare coord set from Angely Sugar while telling her that there is a special audition that would be perfect for her. Winning it will make her an image character for a brand of stationery, and Ichigo quickly accepts the offer to participate.
As Ichigo waits for her turn at the audition, she learned that every fan must be treated with care and respect than the autographs also need. Then, Ichigo gets called up next and she heads into the fitting room. While preparing she tells herself that to win her fans back, she has to give it her all. She places her card set into the device and heads inside, changing into the Ice Blue Frill Coord. Then she enters the stage, where she starts her performance to Idol Activity!.
Ichigo eventually wins the role and goes to a mall where the job takes place. She promotes the launch of a seven-colored feelings-conveying felt-tip pen. Among the audience in the far distance are Aoi and Ran incognito. Aoi was impressed that Ran came to see Ichigo, but she claims it wasn't out of concern, but to put pressure on her. Then, Ichigo begins demonstrating the felt pen by writing her autograph on a large white paper. Everyone was amazed by it, but Ran, from the distance shouts an opinion by saying Ichigo trained to make it. Ichigo then positively encourages everyone in the crowd to try the pen.
Character Appearances
Trivia
This is the first appearance of rare cards
Gallery
Videos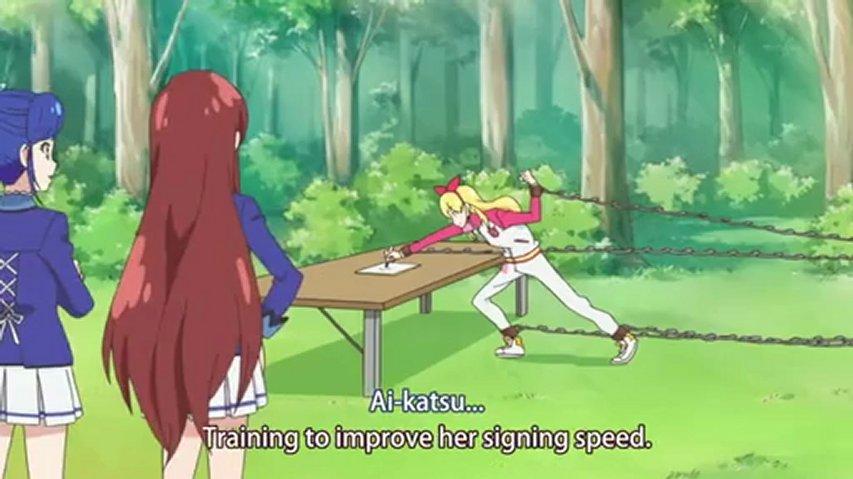 Ad blocker interference detected!
Wikia is a free-to-use site that makes money from advertising. We have a modified experience for viewers using ad blockers

Wikia is not accessible if you've made further modifications. Remove the custom ad blocker rule(s) and the page will load as expected.