Ad blocker interference detected!
Wikia is a free-to-use site that makes money from advertising. We have a modified experience for viewers using ad blockers

Wikia is not accessible if you've made further modifications. Remove the custom ad blocker rule(s) and the page will load as expected.
calendass Aikatsu!
is an A5-sized desk calendar released along with the 2014 Series' release. There are four promotion cards featured for the theme of each seasons. The calendar can be pre-ordered on Premium Bandai's website until November 5, 2013 16.00 JST.
Promotion Cards
Season: Spring
Card Number: 04-48
Card Name: Dreamy Candy Onepiece
Type: Pop
Category: Tops & Bottoms
Brand: -
Rarity: Normal
Lucky Star: ★★★
Dress Appeal: Tops Wave
Appeal Points: 400
Season: Summer
Card Number: 06-23
Card Name: Bon Voyage Onepiece
Type: Cool
Category: Tops & Bottoms
Brand: Futuring Girl
Rarity: Normal
Lucky Star:
Dress Appeal: Tops Wave
Appeal Points: 550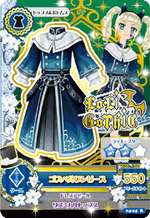 Season: Autumn/Fall
Card Number: 04-25
Card Name: Gospel Onepiece
Type: Cool
Category: Tops & Bottoms
Brand: LoLi GoThiC
Rarity: Rare
Lucky Star: ★★☆
Dress Appeal: Rhythmical Tops
Appeal Points: 550
Season: Winter
Card Number: PR-007
Card Name: Jingle Bell Lovely Santa Skirt
Type: Sexy
Category: Tops & Bottoms
Brand: -
Rarity: -
Lucky Star: ★☆☆
Dress Appeal: Tops Wave
Appeal Points: 450
Gallery