Home
Talk

6
1,262pages on
this wiki
What is "Aikatsu!"?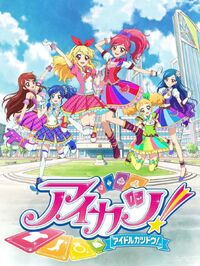 "My burning-passionate idol activites―Aikatsu! is starting!"
Aikatsu! (アイカツ, Aikatsu!?), short for Aidoru Katsudō! (アイドルカツドウ, Aidoru Katsudō!? lit. "Idol Activity!"), is a collectible card game by Bandai. An anime adaptation was made by Sunrise that began on October 8, 2012. In addition, there are also three manga adaptations, a 3DS game adaptation, and a novel adaptation.
The 2nd Season for the anime began on October 3, 2013 and the 2014 Series of the Data Carddass Game began October 10, 2013. The 3DS game titled "Aikatsu! Both of my princess" was also released on November 21, 2013.
Featured Article
Like colorful candies, pop coloring, and pretty designs, anyone can smile spontaneously! The Happy Rainbow brand, like a rainbow lighting up the blue sky, features vivid colors and fruit motifs which goes well with active girls. Please enjoy the dresses that actively address your personality.

Designed by Makoto Nijigahara, Happy Rainbow is Otome Arisugawa's favorite brand. Otome so far has two Premium Rare Coords and her Premium Constellation Dress is coming soon in the anime!
Poll
Which song do you love most off of Cute Look?
Wiki Affiliations

Love Live! Wiki
Featured Video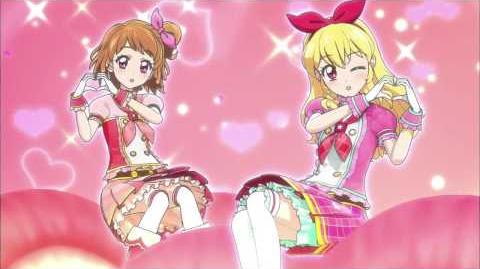 Digest video for the anime's 3rd Season
Recent Blogs
Create blog post
I know, I know...Ive made a lot of blogs lately, but I thought my usual aikatsu stream hunt could be of some use (if someone hasnt tried doing it already of course)

I, as all of you, was also disappoi…

Read more >

Dreamy Crown's top designer is Sena Tsubasa, a disciple of Angely Sugar's top designer, Amahane Asuka. Can anyone translate his description?

Read more >

So.. This is a pretty large wikia, we've got 3 seasons of anime to cover and a lot of readers and contributers.

There's also naturally a lot of contributers who write blog posts and comments at pages …

Read more >
See more >