Home
Talk

5
1,007pages on
this wiki
Welcome to Aikatsu Wiki!
Warning:
This wiki has SPOILERS spread around, please be aware!
What is "Aikatsu!"?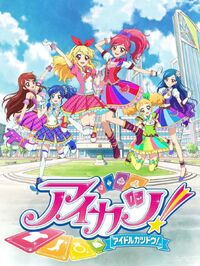 "My burning-passionate idol activites―Aikatsu! is starting!"
Aikatsu! (アイカツ, Aikatsu!?), short for Aidoru Katsudō! (アイドルカツドウ, Aidoru Katsudō!? lit. "Idol Action!"), is a collectible card game by Bandai. An anime adaptation was made by Sunrise that was started on October 8, 2012. There are also three manga adaptations, a 3DS game adaptation and a novel adaptation.
The 2nd Season has been started as on October 3, 2013 for the anime and October 10, 2013 for the 2014 Series of the Data Carddass Game. The 3DS game titled "Aikatsu! Both of my princess" also has be released on November 21, 2013.
Featured Article
An Aurora to decorate the night sky, dresses which were wrapped in fine color and light. Aurora Fantasy is a brand that would transform the user into a resident of fairyland where beautiful flowers shine and sparkle.

Aurora Fantasy is the brand designed by the sisters of Green Grass, admired by Sakura Kitaōji and Maria Himesato as idols and as fans of fairy tales.
Poll
How do you feel when Mizuki returned?
Recent Blogs
Create blog post
OHMYGOD.

So I'm busy for state testing, and I come back to look around at the wikia, and I see that...

SHION HAS A SCHOOL DRESS. YUSSSSSSSSSSSS.

(Wow Lina, you're behind.)

Shion is hands-down my favorite…

Read more >

Hi all,


This time's question is : What is your school dresses name and what color is it ?

Mine is called Cobalt torte coord and it is basically a reprise of the Blue Stage Coord( My username ),with a c…


Read more >

Can you put your style and personality in three words (prefer adjetives) and three things. Like this:

Pop,Cheerfull, Sweet. (three words)
Cupcakes, Candies, Musical Notes (three things)

Mine are:

 Cool, …

Read more >
See more >