What is "Aikatsu!"?
Aikatsu! (アイカツ, Aikatsu!), short for Aidoru Katsudō! (アイドルカツドウ, Aidoru Katsudō! lit. "Idol Activity!"), is a collectible card game by Bandai. An anime adaptation was made by Sunrise that began on October 8, 2012. In addition, there are also three manga adaptations, a 3DS game adaptation, and a novel adaptation.
The 2nd Season for the anime began on October 3, 2013 and the 2014 Series of the Data Carddass Game began October 10, 2013. The 3DS game titled "Aikatsu! Both of my princess" was also released on November 21, 2013.
The third season for the anime began on October 2, 2014 along with the 2015 Series of the Data Carddass Game, with Akari Ōzora as the new central protagonist. A new 3DS game titled, "Aikatsu! 365 Idol Days" was also released on December 4, 2014.
A movie for the anime titled Aikatsu! The Movie was announced at the end of the 71st Episode and premiered on December 13, 2014.
Featured Article

"I will make you shine, and in exchange I want you to make me shine as well."

– Sumire's proposal to Rin when they formed Dancing Diva

Dancing Diva is an idol unit duo consisting of Sumire Hikami and Rin Kurosawa that formed in Episode 130 and officially began their activities in Episode 131. It started out when Sumire, at the success of her first single, Tarte・Tatin, was given the offer to release a second single - this time, as part of a unit. Sumire listened to the song, Tutu・Ballerina, on her phone and afterwards made a trip to Suzukawa's homeroom where she requested Rin to be her unit partner with her reason being that Tutu・Ballerina's lyrics reminded her of Rin.

The name "Dancing Diva" represents Rin's love of dancing and Sumire's love of singing. The "Dancing" comes from Rin's dancing background as well as her nickname "Dancing Lightning"; the "Diva", which is a female performer or songstress, comes from Sumire's talent in song. The two, with a promise to make each shine and rise to new heights together, continue as a cool and powerful unit performing their way to heights they never even dreamed. And with the upcoming Unit Cup, this unit aims to take its power to the next level!



Poll
What is your favourite Dream Story?
Featured Videos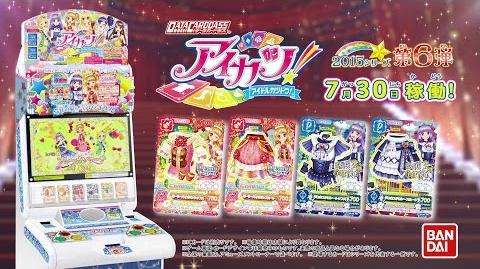 Aikatsu! CM 2015 Series - Part 6♪
Aikatsu! Promotion VTR 2015 Series Part 6♪
AIKATSU! SHOWTIME☆ 2015 Series - Part 6
Recent Blogs
Create blog post
I am sure the title fully explains my question.

Read more >

I just checked the aikatsu website and I found out that new episode titles have been added. I think that, episode 146 is about Aikatsu8, episode 147 about Soleil and something about a school festival…

Read more >
See more >