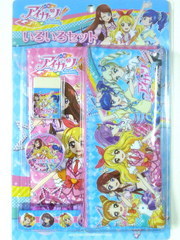 Aikatsu School Supplies
have been released over the series of Aikatsu. They range from pencil cases to erasers to pencils and more. The first set was released in 2013 and is considered an official sunrise product. It had
Ichigo Hoshimiya
,
Aoi Kiriya
,
Ran Shibuki
,
Yurika Todo
,
Otome Arisugawa
, and
Mizuki Kanzaki
.
For the 2015 series, another set was released to focus on Akari Ozora, Sumire Hikami, and Hinaki Shinjō. With occasional images depicting Ichigo, Ran, and Aoi.
2013 Series
Set
Plastic Pencil Case x1
Booklet x1
Plastic Ruler x1
Pencil Sharpner x1
Eraser x1
Appearance
The set is mainly composed of cyan and fuchsia. The pencil case is cyan with a three-color rainbow of pink, gold, and cyan, along with designs of star decals made of gems. The zipper section is light pink and the six main characters are depicted on it. The Aikatsu logo rests in the lower left corner. The eraser cover is also cyan with the same design, but features Ichigo, Ran, and Aoi in a different pose.
The booklet and pencil sharpner are fuchsia with the same star decals in the background, along with sparkle markings and bubbles. Aikatsu is wrote in big fuchsia and sky blue letters and they both depict Ichigo, Aoi, Otome, and Ran on the booklet, but just the main trio on the sharpner.
The ruler is cyan with a pale blue pattern and a thick fuchsia stripe going through the center. The top is translucent with dark blue writing and measure notches. The girls are depicted in their school uniforms and are in a circle with their theme color.
Gallery
2015 Series
Set
Pencil Case x1
Eraser x1
Pencils x5
Pencil Caps x5
Appearance
The set is mainly composed of Pink and purple. Everything is pink with the corners composed of purple, scallop-lined material that has pearl chains and turqoise ribbons. The pink section has large purple and sky blue bows with pink stones in the middle, white flowers, turqoise gems, and gold lined frames shaped like circles and squares. Aikatsu is wrote in fuchsia-purple gradience with Akari, Hinaki, and Sumire sitting in a hot pink frame while Ichigo, Aoi, and Ran are in a colorful pink and blue circle.
Ichigo, Aoi, and Ran are also depicted on the pencil packet, while the 2015 trio are on the pack and are by themselves on the pencils, eraser, and the lipstick tube. 
The pack also comes with five pencil topper caps depicting each girl on it with the coloring matching her theme; Ran is the only girl excluded from this.
Alternate Pencil Cases
There also exist two metal, magnetic pencil cases with the 2015 trio depicted on them wearing a coord from her prefered brand. One is depicted horizontally with a white and pale pink striped design with various circles of pink and purple, along with blue squares. The girls are in a pink and blue ribbon with a single bow attached to it. Variously places are stars with objects in them; like a camera, purple heel, and a girly microphone. Also depiced are gems of pink and light blue, a crown, and a big yellow star with "Become A Top Idol" wrote in it. Aikatsu is wrote in blue, pink, cyan, purple, and goldenrod.
Another version is blue with sparkles, white flowers, pink and blue gems, bows of pink and blue, and tiles all over it. The girls are in in a unique frame; Sumire being in a pale indigo square, Hinaki in a turqoise oval, and Akari in a pink and lavender themed ribbon oval. The sides and corners are purple with chains of pearls and blue droplet gems adorning them.
Gallery
Ad blocker interference detected!
Wikia is a free-to-use site that makes money from advertising. We have a modified experience for viewers using ad blockers

Wikia is not accessible if you've made further modifications. Remove the custom ad blocker rule(s) and the page will load as expected.