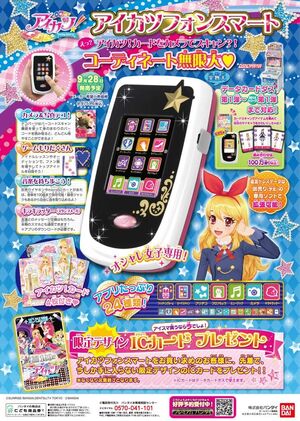 Aikatsu Phone Smart (アイカツフォンスマート, Aikatsu Phone Smart) or also shorten as "AiSuma" (アイスマ, "AiSuma") is the latest series of Aikatsu Phone, known to be the best series. The phone was released on September 28, 2013 along with card-scanning challenge held on the same date. Unlike the previous series, the cards are scanned with the barcode for the 3DS games. The first press editions also includes an original IC Card.
Applications
Fitting Room (

フィッティングルーム

)
Card Scan (

カードスキャン

)
Decoration (

プリデコ

)
Profile (

プロフちょう

)
Music (

ミュージック

)
Camera (

カメラ

)
Kirakiratter (

キラキラッター

)
Bonus Scan (

ボーナススキャン

)
Dance Lesson (

ダンスレッスン

)
Nail Lesson (

ネイルレッスン

)
Model Lesson (

モデルレッスン

)
Auditions (

オーディション

)
Proof of the Constellation (

せいざのあかし

)
Games (

ゲーム

)
Scanable Cards
Promotion Cards
Main article: Aikatsu Phone/Promotion Cards.
Gallery
Main article: Aikatsu Phone/Image Gallery.
Supporting Goods
Main article: Aikatsu Phone/Aikatsu Phone Smart/Supporting goods.
Trivia
On it's first day of sale, the phone has been ranked as the best seller in the toys category.
Ad blocker interference detected!
Wikia is a free-to-use site that makes money from advertising. We have a modified experience for viewers using ad blockers

Wikia is not accessible if you've made further modifications. Remove the custom ad blocker rule(s) and the page will load as expected.