Ad blocker interference detected!
Wikia is a free-to-use site that makes money from advertising. We have a modified experience for viewers using ad blockers

Wikia is not accessible if you've made further modifications. Remove the custom ad blocker rule(s) and the page will load as expected.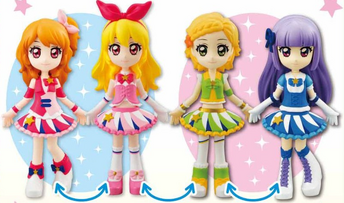 Aikatsu! Dress Up Doll
is a series of toy made in 2015 by Megahouse. So far the line features
Akari Ozora
,
Hinaki
Shinjō
,
Sumire Hikami
,
Ichigo Hoshimiya, and
Juri Kurebayashi
.
Set
Doll - 1 (total of 5)
Tops - 2 (total of 10)
Bottoms - 2 (total of 10)
Accessory - 1 (total 5)
Card - 1 (total of 5)
Hair - 1 (total of 5)
Appearance
Each doll stands at a few inches and comes dressed in her Parade coord. She gains a top and bottom of a unique coord from her brand, along with an accessory and a part of hair to attach it to. Each doll has a specific leg pose; two have one leg bent, while two have their legs straight.
Akari
Dressed in the Pink Parade Coord, she can switch it with the Little Classic Coord. She also comes with the Emblem Hair Accessory. One of her legs are bent to the side to match her arm with her alternate top.
Ichigo
She wears the High Pink Parade and can switch into the Sweet Cupcake Coord and the Heart Dot Ribbon. She has straightened legs and tightly balled fists when switching tops.
Sumire
Dressed in the Blue Parade Coord with a Loli Gothic coord and a small cap accessory. She has a slightly bent leg and with her alternate top, has a hand close to her torso. 
Hinaki
She is dressed in the Yellow Parade Coord with straight legs. She can wear an alternate pop-themed outfit and the Checked Lip Ribbon. With her alternate top, she will have a single raised hand.
Juri
She comes with the Passion Parade Coord and has one bent leg to match her bent left arm. She can wear the Poison Apple Coord as her alternate and has her flower ornament or the Rose Perfume accessory.
Cards
15MG-002
Card Name
Emblem Hair Accessory

Type
Category
Brand

Cute
-
-
Rarity
Lucky Star
Constellation/Romance/Dream/BOOM
Fever
Normal
-
-
Dress Appeal
Appeal Points
-
200
---
15MG-001
Card Name
Heart Dot Ribbon

Type
Category
Brand

Cute
-
-
Rarity
Lucky Star
Constellation/Romance/Dream/BOOM
Fever
Normal
-
-
Dress Appeal
Appeal Points
-
200
---
15MG-004
Card Name
Checked Lip Ribbon

Type
Category
Brand

Pop
-
-
Rarity
Lucky Star
Constellation/Romance/Dream/BOOM
Fever
Normal
-
-
Dress Appeal
Appeal Points
-
200
Gallery