Ad blocker interference detected!
Wikia is a free-to-use site that makes money from advertising. We have a modified experience for viewers using ad blockers

Wikia is not accessible if you've made further modifications. Remove the custom ad blocker rule(s) and the page will load as expected.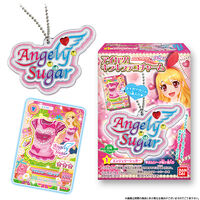 Aikatsu! Twinkling Deco Charm (アイカツ!キラキラデコチャーム, Aikatsu! Twinkling Deco Charm) is a charm collection released by Bandai. The collection features the brands Angely Sugar, Swing Rock, Spicy Ageha, and Magical Toy and was released on November 20, 2013.
The promotion cards that come with it have partner cards that can be found in the Aikatsu! Deco Tape.
Set
Deco Charm ― 1 (total 4)
Line Stone Seal ― 1 piece (total 4 pieces)
Aikatsu! Card ― 1 piece (total 4 pieces)
Gum ― 1
Promotion Cards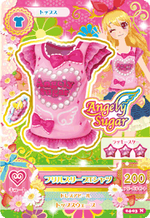 Card Number: 04-03
Card Name: Frill Sleeve T Shirts
Type: Cute
Category: Tops
Brand: Angely Sugar
Rarity: -
Lucky Star: ★★★
Dress Appeal: Tops Wave
Appeal Points: 200
Information: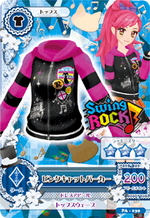 Card Number: PA-039
Card Name: Pink Cat Parker
Type: Cool
Category: Tops
Brand: Swing Rock
Rarity: -
Lucky Star: ★★★
Dress Appeal: Tops Wave
Appeal Points: 200
Card Number: 01-35
Card Name: Ageha Logo Frill Tops
Type: Sexy
Category: Tops
Brand: Spicy Ageha
Rarity: -
Lucky Star: ★☆☆
Dress Appeal: Rhythmical Tops
Appeal Points: 400
Information: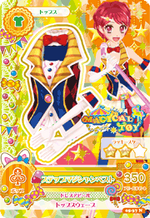 Card Number: 05-37
Card Name: Step Magician Vest
Type: Pop
Category: Tops
Brand: Magical Toy
Rarity: -
Lucky Star: ★★☆
Dress Appeal: Tops Wave
Appeal Points: 350
Information:
Gallery
External Link