Ad blocker interference detected!
Wikia is a free-to-use site that makes money from advertising. We have a modified experience for viewers using ad blockers

Wikia is not accessible if you've made further modifications. Remove the custom ad blocker rule(s) and the page will load as expected.
Aikatsu! Swing Rock Selection
is a set of merchandise released by Bandai in January 2014.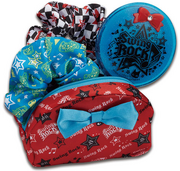 It features four accessories, all based on Swing Rock.
An Aikatsu! Angely Sugar Selection also exsists. 
Included
Accessory x1 (4 in total)
Gum x1
Aikatsu Card x1 (4 in total)
Appearance
Pouch
A crimson pouch with Swing Rock wrote in black and white, along with stylized stars, some of which have tiny white star trails, black cat heads, white musical notes, and black lightning bolts. The zipper, trail, and silk bow are light blue.
Scrunchie 1
A blue scrunchie with a printing of the Swing Rock logo in pale yellow, along with triangles, stars, and cat heads. Stars also come in white, along with musical notes, A pink silk ribbon is attached to it with a diamond-styled star. 
Scrunchie 2
A black and white checker board print. On it are black stars with a thin white star line, a tiny star and dot in either black or white, a solid red star, solid red lightning bolts, and red stars resembling a gem with white accent. A big red star holds writing of Swing Rock. Attached to the scrunchie is a light blue ribbon held by a small, gem-styled pale yellow star.
Mirror
A semi-translucent, light blue mirror with glitter. On the back is the Swing Rock logo in black, detailed with a large star, small over various styled stars, lightning bolts, and music notes. A single black cat head sits below the logo. A heart-shaped hole is cut out of the handle. On top of the mirror is a red plastic bow with a white diamond gem in the middle.
Cards
1401-20
Card Name
Noisy Pianist Shirts

Type
Category
Brand

Cool

Tops

Swing Rock
Rarity
Lucky Star
Constellation
Fever
Normal

-
Dress Appeal
Appeal Points
Tops Wave
200
---
1401-21
Card Name
Noisy Pianist Skirt

Type
Category
Brand

Cool

Bottoms

Swing Rock
Rarity
Lucky Star
Constellation
Fever
Normal

-
Dress Appeal
Appeal Points
Bottoms Charm
300
---
1401-22
Card Name
Noisy Pianist Sandal

Type
Category
Brand

Cool

Shoes

Swing Rock
Rarity
Lucky Star
Constellation
Fever
Normal

-
Dress Appeal
Appeal Points
Hopping Shoes
250
---
1401-50
Card Name
Devil Cat Headband

Type
Category
Brand
-
-
-
Rarity
Lucky Star
Constellation
Fever
-
-
-
Dress Appeal
Appeal Points
-
300
Gallery