Aikatsu! Starlight School Stationery Set
is a limited edition Premium Item released by Bandai.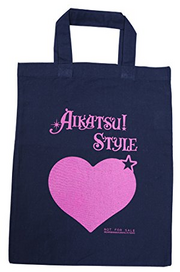 Set
Carrying Bag x1
File x1
Notepad x1
Miniature Notepad x1
Pen x1
Envelopes x4
Appearance
Bag
The item the set is included in. It is a dimple, dark blue velvet material with a fuchsia heart that has a tiny star in it's upper corner. Above it is Aikatsu! Style.
Pen
A silver pen with the tube a gradience of various pinks and clear. On top is the Starlight Academy star logo and below it rests a single depiction of each Idol type - Cute, Cool, Sexy, and Pop.
Notepads and File
A pink and white diamond pattern object with a thin border that has a fancy star gold design in each corner. On the file is a wisp of navy, fuchsia, and white, which acts as the spine on the smaller objects. Depicted on the center is the Starlight Academy logo, while below it is a simple phrase wrote in cursive english. Below it is a line which each of the four idol types, and next to it is a pink and white image of the starlight uniform. A line below it has Aikatsu! wrote in gold cursive.
Envelopes
Four various styles of envoples that come in blue, milk-blue, and pale blue. One is a a striping of milk-blue and pale blue with a dark blue star design in each corner and a smaller, fancy design on the opposite corners. The second resembles a typical envelope with the seal shut by the Starlight Academy logo, while the back has room for a message or included details. A stamp is on the corner, while it has a border of white, dark blue, and milk-blue stripes.
The third is milk-blue with the Starlight Academy logo in the center and a plain dark blue border. The last resembles the page out of a memo book and has the starlight logo in the lower corner. The borde is dark blue with smaller stripes.
Gallery
Ad blocker interference detected!
Wikia is a free-to-use site that makes money from advertising. We have a modified experience for viewers using ad blockers

Wikia is not accessible if you've made further modifications. Remove the custom ad blocker rule(s) and the page will load as expected.