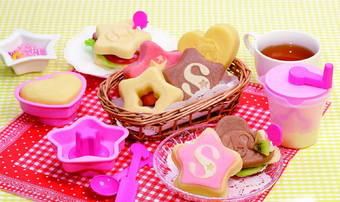 Aikatsu! Star Donut Maker
is a baking toy made in 2015 by Bandai.
Set
Star Mixer x1
Star Donut Shaper x1
Heart Donut Shaper x1
Recipe Card x1
Promotional Aikatsu Card x1
Picks x 4
Spoon x1
Knife x1
Donut Hole Shaper x1
Design Plates x3
Appearance
The entire set is pink themed with accenting shaped like a star.
Star Mixer
A translucent cup with a pale pink topper that gets put onto the top of it. It has holes on each side to pour the mixture out. The handle on top is hot pink to match the hot pink, star-shaped mixer.
Design Pieces
There are three possible design pieces one can use to place onto a donut: one with a big S and a small star, one with the Starlight Academy Star symbol, and one with a chibified Akari.
Picks
Four small sticks with a circle on top with the S and star shape on the center. Writing circles the symbol and to the side are two small bookmark ribbons.
Card
Gallery
Ad blocker interference detected!
Wikia is a free-to-use site that makes money from advertising. We have a modified experience for viewers using ad blockers

Wikia is not accessible if you've made further modifications. Remove the custom ad blocker rule(s) and the page will load as expected.