"Aikatsu, Aikatsu! My effort isn't enough! I'm going to start practicing more!"

This article is a stub. You can help Aikatsu Wiki by expanding it.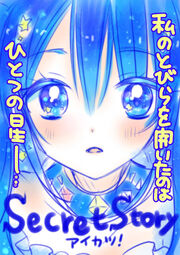 Aikatsu! Secret Story (アイカツ!Secret Story, Aikatsu! Secret Story) is the third "arc" of Ciao's manga serialization of Aikatsu! and its second original arc. This arc features the manga original character Marie; Ichigo Hoshimiya's acquaintance when she was in America.
Plot
Serialization
This "arc" debuted in Ciao's March 2014 issue and ends with five chapters in total. It has released the complete story comic book.
Gallery
Ad blocker interference detected!
Wikia is a free-to-use site that makes money from advertising. We have a modified experience for viewers using ad blockers

Wikia is not accessible if you've made further modifications. Remove the custom ad blocker rule(s) and the page will load as expected.