Ad blocker interference detected!
Wikia is a free-to-use site that makes money from advertising. We have a modified experience for viewers using ad blockers

Wikia is not accessible if you've made further modifications. Remove the custom ad blocker rule(s) and the page will load as expected.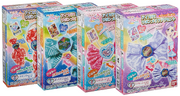 Aikatsu! Ribbon Make Accent
is an accessory set of ribbons released early during July in 2014. The series was made by Bandai and includes the brands
Angely Sugar
,
Swing Rock
,
Bohemian Sky
, and
Love Moonrise
.
Set
Ribbon x1 (4 in total)
Clip x1 (4 in total)
Sticker x1 (4 in total)
Card x1 (4 in total)
Gum x1
Appearance
Each accesory comes with a piece of ribbon folded and scrunched with the clip. It hangs from a chain and can either be a ribbon, bow, or tie depending on the set.
Angely Sugar
A hot pink cloth with white hearts, sparkle marks, double hearts, and the Angely Sugar logo. The clip is pale blue and shaped like a heart, with the logo on a piece of sparkly cyan material lined by white tulle.
Swing Rock
A bright red cloth with a white design of double stars in various sizes and styles, dots, lightning bolts, and the Swing Rock Logo. The clip is navy with a silver background behind the logo, which is accented with tiny designs of stars, musical notes, and lightning bolts.
Bohemian Sky
A light turqoise ribbon with white leaf designs, flowers, and the Bohemian Sky logo all over it. The clip is a six-point shape in pale blue. The Bohemian Sky logo rests in front of a rainbow themed background.
Love Moonrise
A bow of lavender with designs of white sparkle marks, the logo, and white fancy lace and tulle all over it. The clip is a navy six-point shape with Love Moonrise logo on top of a pink glittery background. It is accented by gold designs and tiny gems, and on the top and bottom is black lace. 
Cards
1403-12
Card Name
Lavender Capri Pants

Type
Category
Brand
-

Bottoms
-
Rarity
Lucky Star
Constellation/Romance/Dream/BOOM
Fever
-

-
Dress Appeal
Appeal Points
Bottoms Charm
200
---
1403-27
Card Name
Ice Color Blocking Knit

Type
Category
Brand

Cool

Tops
-
Rarity
Lucky Star
Constellation/Romance/Dream/BOOM
Fever
-

-
Dress Appeal
Appeal Points
Tops Wave
250
---
1403-38
Card Name
Ankle Strap Pumps

Type
Category
Brand

Sexy

Shoes
-
Rarity
Lucky Star
Constellation/Romance/Dream/BOOM
Fever
-

-
Dress Appeal
Appeal Points
Hopping Shoes
200
---
PC-172
Card Name
Red Moon Cactus One Shoulder

Type
Category
Brand

Sexy

Tops
-
Rarity
Lucky Star
Constellation/Romance/Dream/BOOM
Fever
Normal

-
Dress Appeal
Appeal Points
-
250
Set