Ad blocker interference detected!
Wikia is a free-to-use site that makes money from advertising. We have a modified experience for viewers using ad blockers

Wikia is not accessible if you've made further modifications. Remove the custom ad blocker rule(s) and the page will load as expected.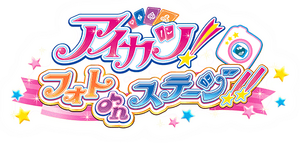 Aikatsu! Photo on Stage!! (アイカツ!フォト on ステージ!!, Aikatsu! Photo on Stage!!) is the 2nd mobile app of the Data Carddass Aikatsu! arcade series. Published by Bandai Namco Entertainment, the game was released on January 27, 2016.
Information
Price: Payment required for in-app purchases
Genre: Idol Life Trial Live Simulation
System: iOS; Android

iPhone 4S to iPhone 6S
iPad, iPad Air, iPad Mini

Purchase Method: App Store/Google Play
Game
Live Simulation
Using the Aikatsu! Photo System, images of idols in different coords will be available for you to create your own unit and to perform in live stages.
Story Mode
The app comes with numerous original stories for users to play.
Four Star Academy
Starlight School
Ichigo Hoshimiya - Scenarios 1 ~ 7 and 1.5, 3.5, 5.5, 7.5
Aoi Kiriya - Scenarios 1 ~ 7 and 1.5, 3.5, 5.5, 7.5
Ran Shibuki - Scenarios 1 ~ 7 and 1.5, 3.5, 5.5, 7.5
Otome Arisugawa - Scenarios 1 ~ 7 and 1.5, 3.5, 5.5
Yurika Tōdō - Scenarios 1 ~ 7 and 1.5, 3.5, 5.5, 7.5
Sakura Kitaōji - Scenarios 1 ~ 5
Kaede Ichinose - Scenarios 1 ~ 7
Starlight School - Scenarios 1 ~ 7 and 1.5, 3.5, 5.5
Akari Ōzora - Scenarios 1 ~ 7
Sumire Hikami - Scenarios 1 ~ 7
Hinaki Shinjō - Scenarios 1 ~ 7
Juri Kurebayashi - Scenarios 1 ~ 7
Akari Ōzora (Daily Life) - Scenarios 1 ~ 7
Sumire Hikami (Daily Life) - Scenarios 1 ~ 5
Hinaki Shinjō (Daily Life) - Scenarios 1 ~ 5
Rin Kurosawa - Scenarios 1 ~ 5
Madoka Amahane - Scenarios 1 ~ 5
Nono Daichi・Lisa Shirakaba - Scenarios 1 ~ 5
Shion Kamiya - Scenarios 1 ~ 5
Hikari Minowa - Scenarios 1 ~ 5
Dream Academy
Special
Memories
Revive! 2wingS - Scenarios 1 ~ 7
Chocolate and Growth☆Choco Pop Detectives! - Scenarios 1 ~ 7
Surprise Poppin' Day☆ - Scenarios 1 ~ 7
Blooming☆Dool Festival - Scenarios 1 ~ 7
Soleil & Luminas Live! - Scenarios 1 ~ 7
Please Venus!! - Scenarios 1 ~ 7
The Secret Tea Party - Scenarios 1 ~ 7
Miracle! WM - Scenarios 1 ~ 7
Song List
In-App Purchases
Shining Star

Used when purchasing "Special Going Outs" (recruiting)
Game Events
Main article: Aikatsu! Photo on Stage!!/List of Game Events
Cardlist
Main article: Aikatsu! Photo on Stage!!/Cardlist
Gallery
Main article: Aikatsu! Photo on Stage!!/Image gallery
Video
External Link
[1] - Official Mobile Webpage