Aikatsu! Girly Rock Guitar (アイカツ!ガーリーロックギーター, Aikatsu! Girly Rock Guitar) is a guitar toy based on Seira Otoshiro's guitar. It was released on October 26, 2013.
The Price is 5,800 Yen
Play Modes
Performance Mode
The performance mode has four sub-modes:
Electric Guitar Mode
Bass Mode
Acoustic Mode
Shamisen (three-stringed Japanese musical instrument) Mode
Game Mode
The game mode has two sub-modes:
Fortune Mode
Ichigo Hoshimiya's and Seira Otoshiro's voices will tell your fortunes:
Idol Fortune
Friendship Fortune
Featured Songs
Set
Promotion Card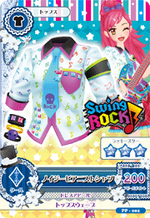 Card Number: PP-002
Card Name: Noisy Pianist Shirts
Type: Cool
Category: Tops
Brand: Swing Rock
Rarity: -
Lucky Star: ★★★
Dress Appeal: Tops Wave
Appeal Points: 200
Gallery
Ad blocker interference detected!
Wikia is a free-to-use site that makes money from advertising. We have a modified experience for viewers using ad blockers

Wikia is not accessible if you've made further modifications. Remove the custom ad blocker rule(s) and the page will load as expected.