Ad blocker interference detected!
Wikia is a free-to-use site that makes money from advertising. We have a modified experience for viewers using ad blockers

Wikia is not accessible if you've made further modifications. Remove the custom ad blocker rule(s) and the page will load as expected.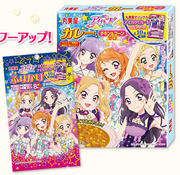 Aikatsu! Furikake and Curry
are two products produced by Bandai and the food company,
Marumiya.
It has been released over the course of the series, with each box or pack containing a card.
For each series, the curry includes a flavoring of Sweetened Corn and Chicken. The Furikake flavorings have a variety of egg, salmon, bonito fish, and Kozakana (a shrimp and sardine mix).
October 2015 featured the second version of release and was based on the brands Dolly Devil, Dreamy Crown, and LoLi GoThiC.
Appearance
First Release
Second Release
The box features a pale blue border, while the front is a gradient of blues, pinks, and purples with a faded white star print. On it is a group shot of Luminas in their unit coord, along with Lisa and Nono, beneath them. In the lower right corner is a picture of the curry.
The Furikake design has the same design, but with the color gradient in a linear design, along with bright yellow stars added with the other. The positions of Luminas is switched with Nono and Lisa's. It's individual packets features a design with a character from the current series on it and comes in four colors. These include: Yellow, with Rin and Hinaki, Blue, which has Aoi, Ran, and Sumire, Red, including Juri, Lisa, and Ichigo, and lastly Pink, featuring Madoka, Akari, and Nono.
Cards
First Release
Second Release
16MS-001
Card Name
Elegant Pinky Top

Type
Category
Brand

Sexy

Tops

Dolly Devil
Rarity
Lucky Star
Constellation/Romance/Dream/BOOM
Fever
-

-
Dress Appeal
Appeal Points
-
250
---
16MS-002
Card Name
Elegant Pinky Skirt

Type
Category
Brand

Sexy

Bottoms

Dolly Devil
Rarity
Lucky Star
Constellation/Romance/Dream/BOOM
Fever
-

-
Dress Appeal
Appeal Points
-
250
---
16MS-003
Card Name
Elegant Pinky Sandals

Type
Category
Brand

Sexy

Shoes

Dolly Devil
Rarity
Lucky Star
Constellation/Romance/Dream/BOOM
Fever
-

-
Dress Appeal
Appeal Points
-
200
---
16MS-004
Card Name
Dressy Violet Ribbon

Type
Category
Brand
-

Accessory
-
Rarity
Lucky Star
Constellation/Romance/Dream/BOOM
-
-
-
Dress Appeal
Appeal Points
-
200
Single Effect
---
16MS-005
Card Name
Little Classic Top

Type
Category
Brand

Cute

Tops

Dreamy Crown
Rarity
Lucky Star
Constellation/Romance/Dream/BOOM
Fever
-

-
Dress Appeal
Appeal Points
-
200
---
16MS-006
Card Name
Little Classic Skirt

Type
Category
Brand

Cute

Bottoms

Dreamy Crown
Rarity
Lucky Star
Constellation/Romance/Dream/BOOM
Fever
-

-
Dress Appeal
Appeal Points
-
250
---
16MS-007
Card Name
Little Classic Pumps

Type
Category
Brand

Cute

Shoes

Dreamy Crown
Rarity
Lucky Star
Constellation/Romance/Dream/BOOM
Fever
-

-
Dress Appeal
Appeal Points
-
200
---
16MS-008
Card Name
British Blue Shirt

Type
Category
Brand

Cool

Tops

LoLi GoThiC
Rarity
Lucky Star
Constellation/Romance/Dream/BOOM
Fever
-

-
Dress Appeal
Appeal Points
-
200
---
16MS-009
Card Name
British Blue Skirt

Type
Category
Brand

Cool

Bottoms

LoLi GoThiC
Rarity
Lucky Star
Constellation/Romance/Dream/BOOM
Fever
-

-
Dress Appeal
Appeal Points
-
200
---
16MS-010
Card Name
British Blue Boots

Type
Category
Brand

Cool

Shoes

LoLi GoThiC
Rarity
Lucky Star
Constellation/Romance/Dream/BOOM
Fever
-

-
Dress Appeal
Appeal Points
-
200
Trivia
Gallery