Ad blocker interference detected!
Wikia is a free-to-use site that makes money from advertising. We have a modified experience for viewers using ad blockers

Wikia is not accessible if you've made further modifications. Remove the custom ad blocker rule(s) and the page will load as expected.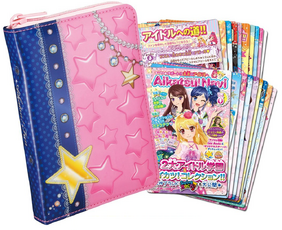 Aikatsu! Filing Notebook
is the replacement of the
Aikatsu! Notebook
that was released alongside the second season, around 2014.
Set
Appearance
The filing notebook is a light frosted-pink with many stars covering the front and back. On the corner are two chains, one composed of pearls, and the second is a pink and blue bead chain with two gems and a star charm hanging from it. The zipper section is pale pink, while the seam and back on each side is dark blue with a design of gems and tiny pearls going down the strip. A big gold star is in the lower corner.
Cards
PG-019
Card Name
Pink Lavender Camisole

Type
Category
Brand

Cute

Tops
-
Rarity
Lucky Star
Constellation/Romance/Dream/BOOM
Fever
Normal

-
Dress Appeal
Appeal Points
Tops Wave
350
---
PG-020
Card Name
Lavender Frill Skirt

Type
Category
Brand

Cute

Bottoms
-
Rarity
Lucky Star
Constellation/Romance/Dream/BOOM
Fever
Normal

-
Dress Appeal
Appeal Points
Bottoms Charm
150
---
PG-021
Card Name
Purple Ribbon with Jewel

Type
Category
Brand

Cute
-
-
Rarity
Lucky Star
Constellation/Romance/Dream/BOOM
Fever
Normal
-
-
Dress Appeal
Appeal Points
-
150
Gallery