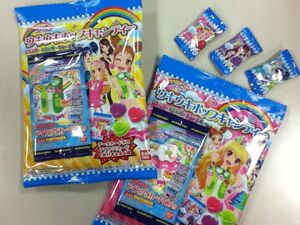 Aikatsu! Exciting Pop Candy (アイカツ!ウキウキポップキャンディー, Aikatsu! Exciting Pop Candy lit. Aikatsu! Exhilarating Pop Candy) is a candy product based on Otome Arisugawa's image, similar to Aikatsu! Data Carddass Gummy, each pack contains a promotion cards. The flavors contained are strawberry, grape, and melon. The product was released on May 6, 2013.
A renewed version released on August 6, 2013 with cards from 3rd and 4th collection cards.
Promotion Cards
Main article: Aikatsu! Exciting Pop Candy/Promotion Cards.
Gallery
Ad blocker interference detected!
Wikia is a free-to-use site that makes money from advertising. We have a modified experience for viewers using ad blockers

Wikia is not accessible if you've made further modifications. Remove the custom ad blocker rule(s) and the page will load as expected.