Ad blocker interference detected!
Wikia is a free-to-use site that makes money from advertising. We have a modified experience for viewers using ad blockers

Wikia is not accessible if you've made further modifications. Remove the custom ad blocker rule(s) and the page will load as expected.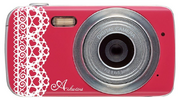 Aikatsu! Digital Camera
is a camera stylized by Aikatsu with a total of 32MB. It was made by Bandai and was released in 2014. 
Included
Camera - 1
Aikatsu! Cards - 4
Appearance
The camera is magenta with a white heart-themed lace design on the right-hand side. Right next to it, along the bottom is Aikatsu wrote in a fancy signature. The lense has silver material surrounding it, along with a small slot on the top of the right side, and two small dots on the left.
Cards
PC-135
Card Name
Black Lace Top with Logo

Type
Category
Brand

Sexy

Tops
-
Rarity
Lucky Star
Constellation/Romance/Dream/BOOM
Fever
Normal

-
Dress Appeal
Appeal Points
Tops Wave
400
---
PC-136
Card Name
Monotone Tiered Skirt with Fur

Type
Category
Brand

Sexy

Bottoms
-
Rarity
Lucky Star
Constellation/Romance/Dream/BOOM
Fever
Normal

-
Dress Appeal
Appeal Points
-
350
---
PC-137
Card Name
Black Thigh-High Enamel Boots

Type
Category
Brand

Sexy

Shoes
-
Rarity
Lucky Star
Constellation/Romance/Dream/BOOM
Fever
Normal

-
Dress Appeal
Appeal Points
Hopping Shoes
150
---
Gallery