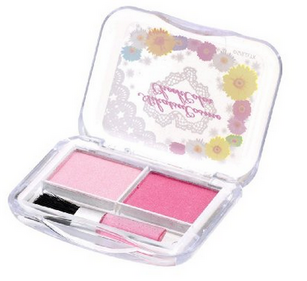 Sweet Pair Blush-On is one of the misc beauty cosmetics one can buy from Aikatsu! Cosme. It was released in 2014. 
It was released with the Daisy Fairy Top.
Description
The Sweet Pair Blush-On is a translucent case with two parts. On the outside lid is writing on top of a white lace heart, while flowers of yellow, orange, white, blue, pink, purple, and red surround it. 
On the inside there are two big squares of blush, with a thick handle wand that is translucent pink with a silver band. 
One blush is pale pink and represents Angely Sugar, Aurora Fantasy, Magical Toy, and Happy Rainbow. The other side, Special Pink, represents Loli Gothic, Spicy Ageha, Swing Rock, Happy Rainbow, and Futuring Girl. 
Ad blocker interference detected!
Wikia is a free-to-use site that makes money from advertising. We have a modified experience for viewers using ad blockers

Wikia is not accessible if you've made further modifications. Remove the custom ad blocker rule(s) and the page will load as expected.