Ad blocker interference detected!
Wikia is a free-to-use site that makes money from advertising. We have a modified experience for viewers using ad blockers

Wikia is not accessible if you've made further modifications. Remove the custom ad blocker rule(s) and the page will load as expected.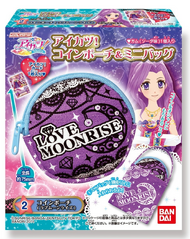 Aikatsu! Coin Pouch & Bag
is an accessory set of released during June in 2014. They were made by Bandai and featured
Angely Sugar
and
Love Moonrise
.
Set
Coin Pough or Bag x1 (2 pouch and 2 bag in total)
Card x1 (4 in total)
Gum x1
Appearance
Angely Sugar
The pouch is light pink with a white ring of tulle circling it. In the center is a blue and white angely sugar logo, while white sparkle marks, lines, and hearts of light blue and white. The zipper and pull is light blue.
The bag is hot pink with a design of white lined bows and hearts (some lined, some solid) all over it. The logo is in the lower right corner of the bag and wrote in hot pink and white.
Love Moonrise
The bag is purple with a black moon with pearls on it, a few chains, diamonds and gems, and sparkle markings. The top and bottom is lined by tulle of black and white, while the logo is wrote in the same color. The zipper section is light blue.
The bag is purple with white tulle on the top corner and opposite bottom corner. The logo is surrounded by sparkle markings and wrote in white.
Cards
1401-04
Card Name
Feminine Knit Camisole

Type
Category
Brand

Cute

Tops

Angely Sugar
Rarity
Lucky Star
Constellation/Romance/Dream/BOOM
Fever
Normal

-
Dress Appeal
Appeal Points
Tops Wave
300
---
1401-05
Card Name
Feminine Dot Capri Pants

Type
Category
Brand

Cute

Bottoms

Angely Sugar
Rarity
Lucky Star
Constellation/Romance/Dream/BOOM
Fever
Normal

-
Dress Appeal
Appeal Points
Bottoms Charm
200
---
PA-049
Card Name
Celebrity Gem Skirt

Type
Category
Brand

Sexy

Bottoms

Love Moonrise
Rarity
Lucky Star
Constellation/Romance/Dream/BOOM
Fever
-

-
Dress Appeal
Appeal Points
Bottoms Charm
200
---
PA-050
Card Name
Celebrity Gem Boots

Type
Category
Brand

Sexy

Shoes

Love Moonrise
Rarity
Lucky Star
Constellation/Romance/Dream/BOOM
Fever
-

-
Dress Appeal
Appeal Points
Hopping Shoes
250
Set