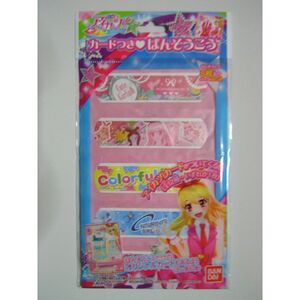 Aikatsu! Band-aids with Cards♥ (アイカツ!カードつき♥ばんそうこう, Aikatsu! Band-aids with Cards♥) is a band-aid series released with a random-chosen card with it.
The first series released on November 2012 with total 12 cards.
The ~Second Season~ (~セカンドシーズン~, ~Second Season~) released on June 2013 with total 30 band-aids and 6 cards of Aurora Fantasy and Love Queen.
The ~3rd stage~ also has been released on October 2013 and the ~Stage 4~ will be released on the midst of February 2014.
Promotion Cards
Main article: Aikatsu! Band-aids with Cards♥/Promotion Cards.
Gallery
Ad blocker interference detected!
Wikia is a free-to-use site that makes money from advertising. We have a modified experience for viewers using ad blockers

Wikia is not accessible if you've made further modifications. Remove the custom ad blocker rule(s) and the page will load as expected.