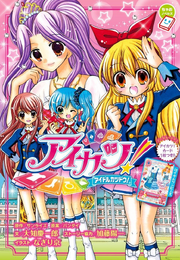 Aikatsu! the novel series is a paperback adaption of the animated series under the same name. The novel's story is based under the anime storyboard and released under Ciao Novels. Illustrations were done by Kyō Nagiri, who also did many illustration for the game previously. The first novel was released on August 8, 2013.
Story
Ichigo Hoshimiya is a normal first-year middle-highschool girl.
With her little brother Raichi Hoshimiya and her best friend Aoi Kiriya, for the first time, she goes to the Top Idol Mizuki Kanzaki's live.
There, Ichigo is fascinated with Mizuki's stage performance.
With Aoi's invitation, she entered the school Mizuki attends, "Starlight Academy" and passed its entrance test.
Here Ichigo starts her twinkling and shining fate……!!!
Illustrations
Volume 1 Chapter 1 - From the Rice Scoop into a Mic!
List of Volumes
Please go to: List of Aikatsu! Light Novel Volumes and Chapters.
Promotion Cardlist
PZ-045
Card Name
Royal Onepiece

Type
Category
Brand

Cute

Tops & Bottoms

Angely Sugar
Rarity
Lucky Star
Constellation/Romance/Dream/BOOM
Fever
Rare

-
Dress Appeal
Appeal Points
Rhythmical Tops
500
External Link
Ad blocker interference detected!
Wikia is a free-to-use site that makes money from advertising. We have a modified experience for viewers using ad blockers

Wikia is not accessible if you've made further modifications. Remove the custom ad blocker rule(s) and the page will load as expected.